ADVANCED LEVEL – NOVEMBER 2018.
Vacations Planning
Route 66 Vacation guide: This website has everything you need to know about your vacation to Route 66 and how to get ready for your road trip.
From maps to trivia to detailed information on each town along the Mother Road, with its attractions and landmarks, vintage Route 66 motels and historic sites.
Planning your Route 66 vacations is now easier with our online Vacation
Looking some ideas for your road trip vacation?
Have you ever wanted to follow a road just to see where it will take you?
Then check out our Route 66 vacation ideas for the adventure of your life!
Our website will help you understand what Route 66 is all about, how to experience it, things to do in its tiny towns or its large cities; side trips and byways that you can explore along the way. What to do, see and enjoy.
At www.TheRoute-66.com we offer reliable and comprehensive information on Route 66 hotels, motels and other lodging, attractions, landmarks, activities and sights, maps, weather and more.
So it is ideal for your vacation planning you can create your own itinerary along US 66.
Get  Started, plan your vacation.
Vintage Motel Sign in Kingman Arizona
vintage Hill Top Motel sign, Route 66 in Kingman Arizona
Some Key Facts about Route 66
The Mother Road
Length. Route 66 is 2,278 miles (3.665 km) long.
Many segments of the original road are now abandoned and some are buried under the modern freeways that replaced it in the 1970s; these segments cannot be driven. But don't feel discouraged, there is plenty to drive and see along the remaining segments.
https://www.theroute-66.com/route66-vacation-guide.html
Route 66 crosses eight states from Chicago by Lake Michigan to Santa Monica on the Pacific Ocean. Each one has its special character. Each town has its own sights, landmarks and special Route 66 attractions.
Driving Route 66
You could drive it in less than a week…
If you drove eight hours per day at 50 miles per hour, you could drive the whole of Route 66 in about six days. Of course you'd miss out on all the fun, whizzing past the towns and villages.
So first of all define the scope of your vacations: the whole road? part of it? Focus on the top attractions? Take a slow pace and cover everything? Where to start? What are your plans?
Are you coming to a convention in Las Vegas or Tulsa and want to include a short Route 66 trip as an "extra"?
Are you specifically organizing your trip as a Road Trip vacation?
Or is Route 66 an add-on to your main vacation?
The type of trip you have in mind will define the scope of your Route 66 vacations.
Some travellers opt for covering the western section: California, Arizona and New Mexico and include a side trip to Las Vegas and the Grand Canyon. Get a feeling of the "Old West" and the fantastic outdoors in southwestern USA.
Others prefer the more densly populated sections in Illinois, Missouri, Kansas and eastern Oklahoma. Enjoying the hills, plains and tiny villages.
Others skim along the whole route from Chicago to LA and stop at the main attractions. Start here!
Our suggestion is that you read our Tips for a Great Road Trip which outlines the whole Vacation planning process in detail.
And to get a better understanding of Route 66, get a broad outline of what Route 66 is all about reading our Route 66 Itinerary .Frequently Asked Questions
See our FAQ page, with answers for your questions…
When is the best time to Drive Route 66? How long will it take? Is the Road Paved? What Papers will I need? What are the Speed Limits?…. and more
Explore Our Guide for Inspiration…
ADVANCED LEVEL – MAY 2018.

  
ADVANCED LEVEL – APRIL 2018.

ADVANCED LEVEL – 16th March 2018.
ADVANCED LEVEL – 16th February 2018.

ADVANCED LEVEL – 12th January 2018.


ADVANCED LEVEL – 1st December 2017.
ADVANCED LEVEL – 3rd NOVEMBER 2017

FIRST  ADVANCED – 21st OCTOBER 2016
22 of the Most Haunted Places in America,
According to Paranormal Experts
(by Juliana LaBianca)
(from: http://www.rd.com/advice/travel/haunted-places-america/1/)
Paranormal investigators, tour guides, and travel agents share their favorite stories from some of the spookiest sites open to the public.
Gettysburg, Pennsylvania: A haunting history lesson
The three-day Battle of Gettysburg claimed the lives of more than 50,000 men from both the Confederate and Union armies, making it the deadliest battle of the Civil War. "It's only natural there is some residual energy here," says Joe Svelha, manager of Ghostly Images of Gettysburg Ghost Tours. "I'd say it's the most haunted small town in America." The story: A few years back, Svelha was leading a group of schoolchildren on a history tour of the Jennie Wade House, the site where Jennie Wade -the only civilian remembered to have died in the Civil War-was killed by a stray bullet. The group was walking down the stairs from the second floor, when Svelha and the children noticed a young boy in Civil War-era attire standing on the landing. A moment later, the boy vanished. So did the students, who dashed back up the stairs in fear. After the sighting, the group didn't stick around to finish their tour. "They went straight back to their bus and left," he says. Other sites in Gettysburg: Along with the Jennie Wade House at 528 Baltimore Street, Svelha recommends visiting the Gettysburg Orphanage (located nearby at 777 Baltimore Street), and the Sachs Covered Bridge spanning Marsh Creek, on the banks of which the Confederate army set up an ill-fated field hospital.
Savannah, Georgia: Spooky southern charm
It would be hard to conceive of a city more conducive to ghost stories than the perfectly historic Savannah, Georgia. For Kelly Hudler, a travel agent based in Jacksonville, North Carolina, it's one of her favorite spooky spots in the South. The story: While Savannah is brimming with haunted hotels, taverns, and town squares, Hudler says the home at 432 Abercorn Street on Calhoun Square is perhaps one of the eeriest places she's ever visited. "The house gives you a bad feeling," she says. Longtime residents also say that the home -which was originally completed in 1868 for Civil War General Benjamin J. Wilson- emits a negative energy. Adding to the mystery is the fact that the house has been abandoned for years. Other sites in Savannah: Hudler recommends visiting the frequently investigated Sorrel Weed House, where the opening scene of the film Forrest Gump was shot. If you're looking to stay the night, try the Kehoe House or the Foley House Inn, both of which are said to have haunted histories.
New Orleans, Louisiana: The city of the dead
Chalk it up to cursed land, yellow-fever outbreaks, or the fact that half the city has burnt to the ground twice. Many locals will say that they cross paths with New Orleans' "past residents" all the time. "If paranormal activity occurs when there is a death associated with heavy emotions," says Sidney Smith, owner of New Orleans Haunted History Tours, "then New Orleans is unparalleled." The story: One of the most infamous landmarks in the French Quarter is the LaLaurie mansion at 1140 Royal Street. The home was built in 1832 for New Orleans socialite Delphine LaLaurie, who lived there just two years when a fire broke out. When officials responded to the blaze, they discovered LaLaurie's tortured and mutilated household slaves, according to a report published in the New Orleans Bee the following day. The townspeople found out as well and attacked the residence in retaliation, destroying much of it. Tour the outside if you dare. "We've had maybe 100 people faint in the exact same spot over the past 20 years," says Smith. "We don't talk about it before the tour, either. It's just always the exact same spot." Other sites in New Orleans: Smith recommends visitors check out the Sultan's Palace (716 Dauphine Street), the Place d'Arms, the Hotel Provincial (building five is the site of many of this hotel's hauntings), and the Andrew Jackson Hotel. Feeling spooked? Kick back with a drink at Lafitte's Blacksmith's Bar (many female guests say the women's bathroom is particularly eerie). The local hot spot might be the oldest structure continuously used as a bar in the United States.
Oregon City, Oregon: Traveling homes and disrupted spirits
With a tiresome history bound to the Oregon Trail, England's Hudson Bay Company, and historical churches, cemeteries, and homes (along with their owners' graves) being picked up and moved from one part of the city to another, it's only natural that parts of Oregon are never truly at rest. The story: Paranormal activity at the Ermatinger House -the third oldest home in the state of Oregon and the oldest in Oregon City- is what first got Rocky Smith, owner of Northwest Ghost Tours and founder of the Oregon Ghost Conference, interested in leading tours. In the mid-1800s, when the home was first built, it was frequently used for town meetings and city decisions. One guest, who many believe was a steamboat captain who frequently boarded at the Ermatinger house, still has a presence today; in particular, at his favorite seat at the head of the dining room table. "My first experience in the house was when I was locking up one night and walked behind the chair," says Smith, noting that the way the table is oriented the chair would have had to have been pushed in in order for him to walk by. "And when I came back inside the chair had moved out about two feet. It would have been in my way if it had been pulled out when I left the room." Smith says the chair often pulls out about 20 times a day. "You will leave the room and come back and it will be pulled out." Other sites in Oregon: The McLoughlin House, the Bridge Tender Tavern, and Kenton Station all attract paranormal enthusiasts.
New York, New York: The city that never sleeps
Combine a chaotic founding with a history of power struggles, racial tensions, and unchecked egos, and you've got the perfect recipe for paranormal activity. The story: Douglas McMillan, founder of the Bronx Paranormal Society, doesn't take the term "haunted" lightly. "When I do an investigation it is with the intention of disproving the haunting, not proving it," he says. That said, there are a few local spots he has investigated and proven to have paranormal activity. The first is an apartment on Colonnade Row, a swath of apartments on Lafayette Street in Manhattan, where McMillan hosts paranormal lectures and investigations. "One night I was doing an investigation there with three other people, and a minute after we turned the lights off we had an experience -all three of us," he says. "Essentially, a shadow manifested and made a circle of the room." Other sites in New York: Governor's Island (McMillan hasn't investigated this one himself, but it's the one place he'd most like to conduct an investigation), the Merchant's House Museum, Green-Wood Cemetery, and the Amityville Horror House in Long Island, New York.
ADVANCED LEVEL                                                                           13TH MAY 2016
 http://www.bbc.com/travel/story/20160415-the-worlds-most-polite-country
 The world's most polite country?
It's so well mannered that even the toilet seat stands to attention when you enter the bathroom.
By Steve John Powell and Angeles Marin Cabello
9 May 2016
The sun had already begun dissolving into the reddening sea, an alarming reminder that we had dilly-dallied a little too long on our cycling jaunt round Japan's Ninoshima Island in Hiroshima Bay. Unsure of the ferry's last departure for the mainland, we stopped at a roadside bar to ask. This triggered worried looks all round: the final boat was about to leave.
Japan's Ninoshima Island in Hiroshima Bay (Credit: Angeles Marin Cabello)
"You can just make it if you take the shortcut," said one man, stepping outside and pointing to a narrow road up a small mountain. With evening falling fast, we had severe misgivings, but cycled off uphill nonetheless. Looking round, we were astonished to see our newfound friend jogging up the hill behind us at a discreet distance to ensure that we didn't get lost, only turning back when the port was safely in sight below us. His random act of kindness got us to the ferry with minutes to spare.
This was one of our first experiences with omotenashi, which is often translated as "Japanese hospitality". In practice, it combines exquisite politeness with a desire to maintain harmony and avoid conflict.
People bow outside of a shrine in Kyoto (Credit: Russell Kord/Alamy)
Omotenashi is a way of life in Japan. People with colds wear surgical masks to avoid infecting others. Neighbours deliver gift-wrapped boxes of washing powder before beginning building work – a gesture to help clean your clothes from the dust that will inevitably fly about.
Staff in shops and restaurants greet you with a bow and a hearty irasshaimase(welcome). They put one hand under yours when giving you your change, to avoid dropping any coins. When you leave the shop, it's not unusual for them to stand in the doorway bowing until you are out of sight.
Neighbours offer gift-wrapped boxes of washing powder (Credit: MIXA/Alamy)
Machines practice omotenashi, too. Taxi doors open automatically at your approach – and the uniformed white-gloved driver doesn't expect a tip. Lifts apologise for keeping you waiting, and when you enter the bathroom the toilet seat springs to attention.
In Japanese culture, the farther outside one's own group someone is, the greater the politeness shown to that person – which is why foreigners (gaijin – literally, "outside people") are invariably astounded to find themselves accorded such lavish courtesies. "It still surprises me after nine years here," said Spanish teacher Carmen Lagasca. "People bow when they sit next to you on the bus, then again when they get up. I'm always noticing something new."
But omotenashi goes far beyond being nice to visitors; it permeates every level of daily life and is learned from a young age.
"Many of us grew up with a proverb," said Noriko Kobayashi, head of inbound tourism at DiscoverLinkSetouchi, a consortium that aims to create jobs, preserve local heritage and promote tourism in Onomichi, Hiroshima Prefecture. "It says that 'After someone has done something nice for us, we should do something nice for the other person. But after someone has done something bad to us, we shouldn't do something bad to the other person.' I think these beliefs make us polite in our behaviour."
Japanese people learnt their politeness from an ancient proverb (Credit: Alexander Spatari/Getty)
So where did all this politeness come from? According to Isao Kumakura, professor emeritus at the research institute of Osaka's National Museum of Ethnology, much of Japan's etiquette originated in the formal rituals of the tea ceremony and martial arts. In fact, the word omotenashi, literally "spirit of service", comes from the tea ceremony. The tea-ceremony host works hard to prepare the right atmosphere in which to entertain guests, choosing the most appropriate bowls, flowers and decoration without expecting anything in return. The guests, conscious of the host's efforts, respond by showing an almost reverential gratitude. Both parties thus create an environment of harmony and respect, rooted in the belief that public good comes before private need.
Similarly, politeness and compassion were core values of Bushido (the Way of the Warrior), the ethical code of the samurai, the powerful military caste who were highly skilled in martial arts. This elaborate code, analogous to medieval chivalry, not only governed honour, discipline and morality, but also the right way of doing everything from bowing to serving tea. Its Zen-based precepts demanded mastery over one's emotions, inner serenity and respect for others, enemies included. Bushido became the basis for the code of conduct for society in general.
The wonderful thing about being exposed to so much politeness is that it's as contagious as measles. You soon find yourself acting more kindly, gently and civic-mindedly, handing in lost wallets to the police, smiling as you give way to other drivers, taking your litter home with you and never ever raising your voice (or blowing your nose) in public.
Wouldn't it be great if each visitor took a little bit of omotenashi home with them and spread it around? The ripple effect could sweep the world.
In Japan, omotenashi permeates every level of daily life and is learned from a young age (Credit: Angeles Marin Cabello)
ADVANCED LEVEL                                                                                                                                                                        8TH APRIL 2016
http://www.independent.co.uk/news/world/europe/spains-prime-minister-mariano-rajoy-set-to-drop-siesta-to-shorten-working-day-by-two-hours-a6967101.html
Spain's Prime Minister set to 'drop siesta' to shorten working day by two hours
Mariano Rajoy: 'I will find a consensus to make sure the working day ends at 6pm'
Monday 4 April 2016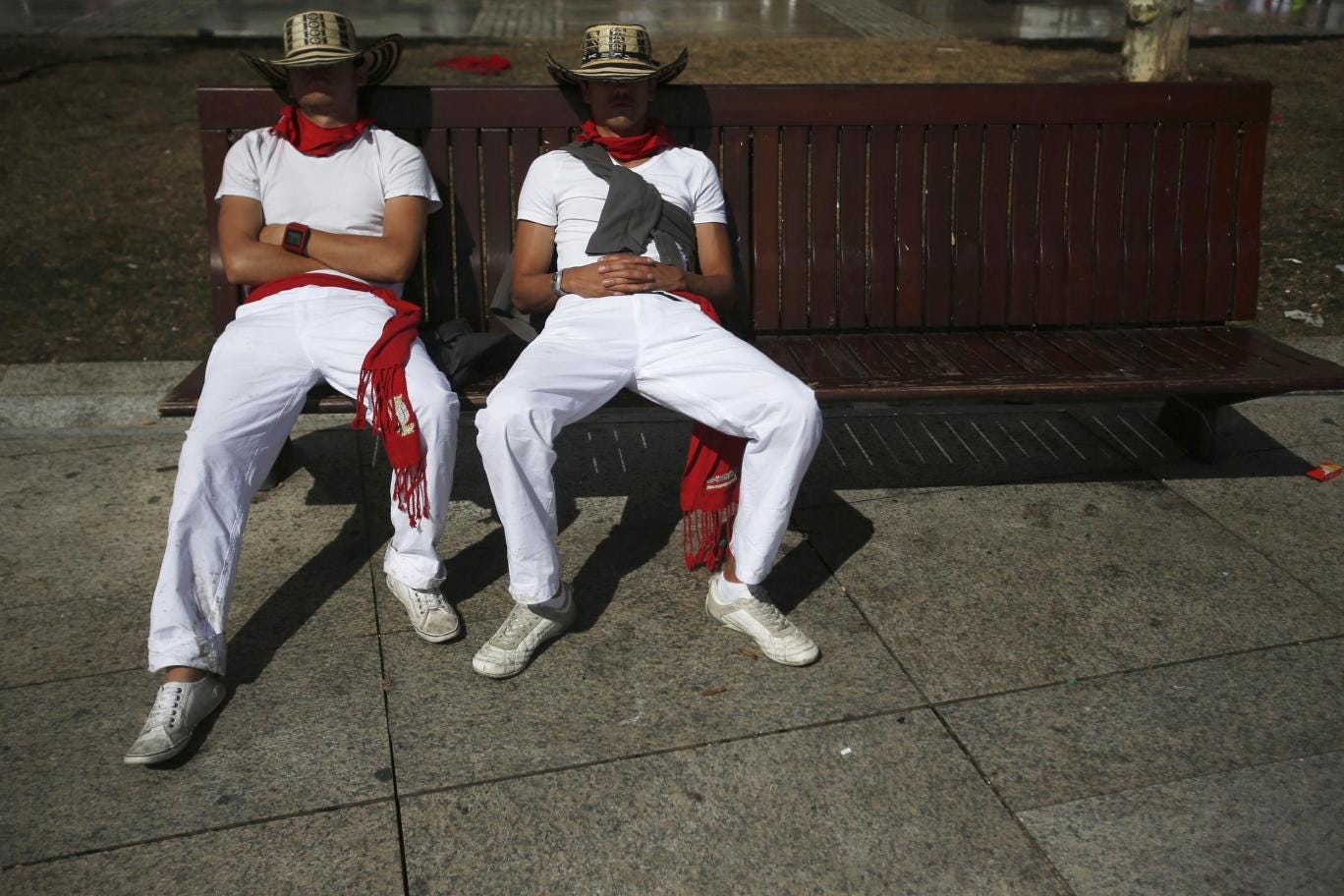 Revellers sleep on a bench after the second runningof the bulls during the San Fermin festival in Pamplona Revellers sleep on a bench after the second running
Reuters
The Spanish Prime Minister has announced moves to cut the working day by two hours and bring an end to the traditional siesta, in an attempt to bring the country into line with its European counterparts.
Mariano Rajoy, the head of the centre-right coalition government, wants to scrap the traditional extended midday break. Mr Rajoy said: "I will find a consensus to make sure the working day ends at 6pm."
While the siesta is no longer universally observed – its impact on the length of an average working day can still be felt.
The siesta was founded historically on the basis of allowing the country's largely agricultural workers to avoid the searing midday heat, the Times reports. Despite working longer hours than their German counterparts, statistics from the OECD show Spanish workers' productivity is much lower.
A 2013 Spanish parliamentary commission said: "We need more flexible working hours, to cut our lunch breaks, to streamline business meetings by setting time limits for them, and to practise and demand punctuality." The report explained cutting the siesta would raise the quality of life, raise the low birth rates and reduce marriage breakdowns.
It is thought Mr Rajoy is backing this popular decision in an attempt to win votes in the upcoming general election in June. He is also looking to return Spain back to Greenwich Mean Time (GMT) as it is currently one hour ahead of London, the same as eastern European countries such as the Czech Republic.
This odd time arrangement dates back to 1942 when former dictator General Franco showed his support for Hitler's Nazi regime by adopting German Time.
COMMENTS
AlbertoAdolfo
This must be one of the worst articles on Spain ever published. It is obvious that Matt Payton seems never to have set foot in the country. To start with, the picture at the top has nothing to do with the siesta; those are two lads sleeping off a night of drinking during the run of the bulls in Pamplona. Frankly, I can't be bothered to comment further if nobody at The Independent has bothered to do their homework. I write as a retired journalist who has lived in Spain (not the Costas) for over 25 years and speaks Spanish fluently. Shame on you!
Caoimhin
What a load of crap this article is, you need to take yourself more seriously Matt. It is obvious that you have not the slightest idea about Spain, and I honestly can't understand how any editor approved this article, as any resemblance to reality seems to be pure coincidence.
First of all, let me point out that I am a British citizen who happens to have lived in Spain for a few years, and if I cannot describe how offensive this article is to me, I couldn't wish to imagine what any Spaniard might think after reading it: all I can do is apologize on your behalf, sorry guys, not all Britons are this simple.
For all the Spanish people I know, I have never met anyone who takes a two-hour break from work to have a siesta; in fact, I have never met anyone who takes a break from work to have a siesta at all! I can see why you would have to use a picture taken during the San Fermin festival in Pamplona to illustrate this article, as you would not be able to see anyone sleeping in such a way any other time of the year: reading this you'd think people take their sleep bags to work! It's even possible that those guys on the picture aren't Spanish, as this festival is one of the most embarrassing times of the year to be British in Spain, as so many foreigners travel there to make a fool of themselves.
Spanish people do take a longer break during their work hours, but it is only because they have their main meal at that time of the day, after which they return to work for much longer hours than many "hard working" Englishmen who would almost be offended by the very thought of doing ANYTHING after six o'clock.
But as offensive as this is, I think that the worse of it all is how you manage to not get one damn fact right: Rajoy is not the leader of any coalition government, his party was alone in governing Spain, and now they continue to be the acting government until a new one is formed. The information about Spain's time zone being related to the Nazis is also a myth, as has been already pointed out in different comments.
All in all, an embarrassing article for which I believe that The Independent should apologize to anyone who might have been offended.
YeyoB
The average working time in Spain starts at 8 am and ends at 18 pm, with a break of around one hour to have lunch. This break is longer than in UK because it's the strongest meal of the day. In the Mediterranean area of the country, the shops use to be closed at the midday, during the summer, when it's over 40ºC and there is nobody on the streets. But the only person I know that sleeps a daily siesta is my 2 years old daughter.
Many people from Northern Europe believe that the Spaniards are always having sun baths, sleeping or in a party, because that is exactly what they do when they come to Spain on vacations. At the end, it's what they associate with the "Spanish way of life": an endless holiday. This picture is very relevant to talk about Spanish workers.
The idea Francisco Franco changed the country's time zone to coincide with Germany is just a widespread urban legend. In May 1942 Spain adopted the same country's time zone the UK has. In September 1945 Spain adopted the same country's time zone Germany has (in other words, when Hitler was defeated).
Just a final thought… with the second class Europeans (the so-called PIGS) political correctness seems to disappear and these derogative national stereotypes are very common. This article is quite stupid anyway and the British journalists should be not so lazy and make a good research first.
garav
The Independent should quit hiring freelance "journalists" like Matt Payton who apparently don't care about their profession and would rather further false stereotypes that help intensify the north-south divide in this wretched Europe of us.
Want to know about Spanish working conditions? Hire a Spanish journalist, and quit the "siesta" remarks, unrelated pictures, false information, and cheap sensationalism. You'd spend more time researching and less time correcting poor articles.
Plus, that last paragraph about Spain having continental time being related to Hitler is another myth, and you would know it if you wouldn't take the first google link for a fact. Sorry Matt, seems you're not getting anything straight these days. Maybe you could do the gossip column.
Yours,
a Spaniard who doesn't nap
javier.valino
"Spanish workers currently tend to start work at 10am, staying until 2pm when they have a siesta up to three hours before leaving at 8pm."
JAJAJAJAJAJAJAJAJA. It's a joke?
I work 8:30 to 14:00 and 15:00 to 18:00. It's a normal work time in Spain. Stop topics, please
pnavascues
This writer is uninformed to absurd degrees.
We don't sleep siesta on work days. And rarely on weekends either. The 10am to 8pm schedule is only for store clerks. Any other worker not doing shifts works 9am-6pm, sometimes flexible. The reasons we work longer hours is that despite our long standing image, we are a dedicated bunch.
The reason our productivity as workers is low is that productivity is GDP/hour worked and in a depressed economy as ours, guess what!? GDP is low, low.  Hard to beef up that number when our average salary is half of what a rich European country average salary is.
ADVANCED LEVEL                                                                                                                       11TH MARCH 2016                                                             
http://www.biography.com/people/banksy-20883111#identity
http://www.theweek.co.uk/banksy/55507/who-is-banksy-science-may-have-solved-the-mystery
Banksy 
Banksy is the pseudonym of a "guerrilla" street artist known for his controversial, and often politically themed, stenciled pieces.
QUOTES
"We can't do anything to change the world until capitalism crumbles. In the meantime we should all go shopping to console ourselves."
—Banksy
Synopsis
Banksy, a street artist whose identity remains unknown, is believed to have been born in Bristol, England, around 1974. He rose to prominence for his provocative stenciled pieces in the late 1990s. Banksy is the subject of a 2010 documentary, Exit Through the Gift Shop, which examines the relationship between commercial and street art.
Artistic Career
Banksy began his career as a graffiti artist in the early 1990s, in Bristol's graffiti gang DryBreadZ Crew. Although his early work was largely freehand, Banksy used stencils on occasion. In the late '90s, he began using stencils predominantly. His work became more widely recognized around Bristol and in London, as his signature style developed.
Banksy's artwork is characterized by striking images, often combined with slogans. His work often engages political themes, satirically critiquing war, capitalism, hypocrisy and greed. Common subjects include rats, apes, policemen, members of the royal family, and children. In addition to his two-dimensional work, Banksy is known for his installation artwork. One of the most celebrated of these pieces, which featured a live elephant painted with a Victorian wallpaper pattern, sparked controversy among animal rights activists.
Other pieces have drawn attention for their edgy themes or the boldness of their execution. Banksy's work on the West Bank barrier, between Israel and Palestine, received significant media attention in 2005. He is also known for his use of copyrighted material and subversion of classic images. An example of this is Banksy's version of Monet's famous series of water lilies paintings, adapted by Banksy to include drifting trash and debris.
Banksy's worldwide fame has transformed his artwork from acts of vandalism to sought-after high art pieces. Journalist Max Foster has referred to the rising prices of graffiti as street art as "the Banksy effect." Interest in Banksy escalated with the release of the 2010 documentary Exit Through the Gift Shop. The film, which premiered at the Sundance Film Festival, was nominated for an Academy Award.
In October 2013, Banksy took to the streets of New York City. There he pledged to create a new piece of art for each day of his residency. As he explained to the Village Voice, "The plan is to live here, react to things, see the sights—and paint on them. Some of it will be pretty elaborate, and some will just be a scrawl on a toilet wall." During that month, he also sold some of his works on the street for $60 a piece, well below the market value for his art.
Identity
Elusive street artist Banksy has kept his identity a closely guarded secret – but now scientists may have tracked him down using a technique developed to catch serial criminals. Researchers at the Queen Mary University of London used a method known as geographical profiling to pinpoint locations associated with Banksy. It is a technique that typically "uses the spatial locations of crimes to make inferences about the criminal's anchor point – usually a home or workplace", says the Bristol Post.
The team used the locations of more than 100 of Banksy's alleged works in Bristol and London to find clusters of "hot spots", including a pub and playing field in Bristol and three addresses in the capital.
Many of the locations were associated with one person: Robin Gunningham. "For Banksy junkies, this comes as little surprise; Gunningham has been suspected of being Banksy since 2008," says Gizmodo. "Needless to say, Banksy is not amused." The site also points out that the method employed was "incredibly imprecise" as it uses only suspected cases of Banksy's artwork and excludes outliers in the location data.
Lead researcher Dr Steve Le Comber, a fan of the artist himself, told the BBC he did not believe his work had "unmasked" Banksy. As the mystery continues, here are some other theories and key Banksy "sightings":
Banksy meets The Guardian, 2003: One of the only journalists to have met Banksy is The Guardian's Simon Hattenstone. He described the artist as "white, 28, scruffy casual – jeans, T-shirt, a silver tooth, silver chain and silver earring. He [Banksy] looks like a cross between Jimmy Nail and Mike Skinner of the Streets."
Banksy in Bethnal Green, 2007: A passer-by "familiar with Banksy's work" snapped the artist and an assistant painting a mural in Bethnal Green, east London. The picture "could show the reclusive artist at work," said The BBC.
Banksy is "nice middle-class boy", 2008: The Mail on Sunday broke the mould by running a sharp picture of a smiling, curly-haired man it insisted was Banksy. His real name is Robin Gunningham, said the paper, which also claimed he was a public schoolboy educated at the £9,240-a-year Bristol Cathedral School. Fans of the artist's "anti-establishment stance" would doubtless be "shocked" to learn of his true identity, the Mail added.
Banksy self-portrait confirms his identity, 2009: When a Banksy "self-portrait" appeared on the side of an office block in east London, the Mail on Sunday felt vindicated. "The image is almost identical to the Mail on Sunday's picture [of Gunningham]," it said. "It is possible the graffiti art was created by someone else," the paper admitted. "But evidence compiled in a Mail on Sunday investigation suggests that Banksy is indeed Robin Gunningham – and that in his latest graffiti he has coyly acknowledged his unmasking."
Mrs Banksy unmasked, 2011: The woman sitting in front of a laptop looks like "just another unremarkable young professional", said the Daily Mail. In fact, she is Joy Millward, the "very secretive wife of the world's most secretive artist, Banksy". Millward, a parliamentary lobbyist who is married to Robin Gunningham, declined to comment.
Banksy goes to the Playboy Club, 2011: Was that Banksy wearing a vicar's outfit and a skull mask to a celebrity bash at the Playboy Club in Mayfair, London? Members of the paparazzi insisted it was, Digital Spy wasn't so sure.
Banksy unmasked in Santa Monica, 2011: Another grainy, out-of-focus picture, this one taken in Los Angeles. It shows a man wearing a green baseball cap who the Daily Mail says has just painted the words 'This Looks a bit like an Elephant' on a container near a busy motorway.
Banksy in New York, 2013: One of the most recent pictures claiming to unmask the reclusive millionaire street artist was taken in New York in October last year. It shows a gaunt-looking man wearing a flat cap and "paint-spattered overalls". The snap, taken by one of the stencil artist's fans, was captured as a delivery truck being used to display one of his art works was parked on a Manhattan street. When a battery failed and the lights illuminating the picture of a lush garden went off, the man in the cap "sprang into action". There were several men at the scene, but the one in the hat "stood out from the group", said the Daily Mirror.
Banksy is a woman: A recurring theory is that "he" is in fact a "she". Previous evidence supporting the "flimsy theory" that Banksy is a man is likely to be a form of "misdirection" planted by the artist herself, suggests CityLab writer Kriston Capps. "Girls and women figure into Banksy's stencilled figures, for starters, something that isn't true of 99 per cent of street art," he says.
Should the quest to unmask Banksy continue? Salon thinks not. "It's inevitably much more fun to think of some masked Warhol biting his thumb at the mainstream art world and taking the mystique of an anonymous graffiti tag to its inevitable conclusion," it says. "Banksy is everywhere and nowhere at the same time."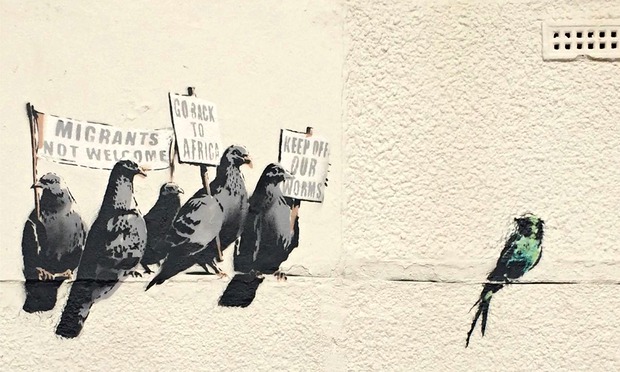 Start with the Constitution. The basic process of selecting the President of the United States is spelled out in the U.S. Constitution, and it has been modified by the 12th, 22nd, and 23rd amendments. Many additional steps have been added over the years, by custom and by state law — the process has changed quite a bit over time.
Who Can Run? The President and Vice-President are elected every four years. They must be at least 35 years of age, they must be native-born citizens of the United States, and they must have been residents of the U.S. for at least 14 years. (Also, a person cannot be elected to a third term as President.)
How Do the Political Parties Choose Their Candidates? That's up to the political parties. Most political parties hold conventions, which are large meetings attended by "delegates." Some delegates are selected by state "primary" elections, some are selected by state caucuses (very much like primaries, except with public voting instead of secret ballots), and some are chosen for their prominence in the party. A majority of delegate votes is needed to win the party's nomination. In most cases, the delegates let their chosen presidential candidate select a vice-presidential candidate.
Candidates for President and Vice-President Run Together. In the general election, each candidate for President runs together with a candidate for Vice-President on a "ticket." Voters select one ticket to vote for; they can't choose a presidential candidate from one ticket and a vice-presidential candidate from another ticket.
The Electoral College. The national presidential election actually consists of a separate election in each of the 50 states and the District of Columbia; in these 51 elections, the voters are really voting for "electors" pledged to one of the tickets. These electors make up the "Electoral College."
Each state has the same number of electors as it has senators and representatives (there are two senators from each state, but the number of representatives depends on the state population in the most recent census). The District of Columbia, although it isn't a state, also participates in presidential elections — it currently has three electors.
The People in Each State Vote for Electors in the Electoral College. In most of the states, and also in the District of Columbia, the election is winner-take-all; whichever ticket receives the most votes in that state (or in D.C.) gets all the electors. (The only exceptions are Maine and Nebraska. In these states, just two of the electors are chosen in a winner-take-all fashion from the entire state. The remaining electors are determined by the winner in each congressional district, with each district voting for one elector.)
The Electoral College Votes for the President. The Electoral College then votes for President and for Vice-President, with each elector casting one vote; these votes are called electoral votes. Each elector is pledged to vote for particular candidates for President and Vice-President. In most elections, all the electors vote in accordance with the pledge they made; it is not clear what would happen in the unlikely event that a large number of electors violated their pledge and voted differently.
Normally, one of the candidates for President receives a majority (more than half) of the electoral votes; that person is elected President. That candidate's vice-presidential running mate will then also receive a majority of electoral votes (for Vice-President), and that person is elected Vice-President.
If There's No Electoral College Winner, the House of Representatives Chooses the President. In the rare event that no presidential candidate receives a majority of the electoral votes, then the President is chosen instead by the House of Representatives, from the top three presidential vote-getters in the Electoral College; each state delegation in Congress casts one vote. (The Vice-President would be chosen from the top two vice-presidential vote-getters by the Senate.)
This is bizarre! Does it really work this way? Yes. There are many arguments pro and con the Electoral College, but this system does guarantee that the person elected President has substantial support distributed throughout the U.S. The Electoral College has also been a major factor in the United States' long-term political stability.
ADVANCED LEVEL                                                                                                                                                        15TH JANUARY 2016 http://www.latimes.com/entertainment/music/posts/la-et-ms-david-bowie-obituary-influence-20160111-story.html
David Bowie: The Man Who Changed the (Music) World
(1947-2016)
by Randy Lewis
David Bowie in 1983. (RALPH GATTI)
David Bowie made his first big splash in the early 1970s with "Space Oddity," an imagined conversation between an astronaut and his ground control team. Over the next 40-plus years the British rocker often wrote songs about or from the perspective of beings from out of this world.
In many respects, Bowie, who died Sunday at 69 after an unpublicized 18-month battle with cancer, was an alien presence in pop music. He shifted guises from album to album and perpetually kept fans and critics guessing about his next move. In an era of who-cares-what-I-look-like musicians, Bowie helped bring a dramatic sense of showmanship and theatricality to rock music.
He saw music as narrative, and the invention of characters became part of his creative style. Later, he lamented that these made-up personas were mistaken for signs of personal transformation — "I always saw it as theater, but the audience saw it as me going through all the changes," he said.
After the success of "Space Oddity," which originally was released in 1969 but gained new traction in 1972, Bowie fully immersed himself in the character of a visitor from Earth's  planetary neighbor with the concept album "The Rise and Fall of Ziggy Stardust and the Spiders From Mars." His song "Starman" from that album appears in the hit film "The Martian."
He subsequently took on other alter egos — Aladdin Sane, the Thin White Duke and others — as he continually experimented with musical directions that both intrigued and confounded music fans, moving from guitar rock to synthesizer-driven dance music and pop to blue-eyed soul and jazz.
On Friday, the day he turned 69, Bowie released as new album, "Blackstar." It was recorded early in 2015, after Bowie had been diagnosed with cancer, a condition he largely kept to himself and his family.
His longtime collaborator, Tony Visconti, said it was Bowie's intention that the album would be his farewell message.
"He always did what he wanted to do," Visconti wrote on his Facebook page. "And he wanted to do it his way and he wanted to do it the best way. His death was not different from his life — a work of Art. He made 'Blackstar' for us, his parting gift."
The album revels in an improvisational spirit of jazz, which had influenced Bowie since he first took up saxophone, an instrument he played on a number of records. While producing Lou Reed's sole top 20 hit, "Walk on the Wild Side," in 1972, Bowie brought in saxophonist Robbie Ross, who had been Bowie's sax teacher, to play the signature sultry solo as the song fades out.
Bowie's influence extended far beyond those of his contemporaries who came of age in the 1950s and '60s. As news of his death spread, rapper Kanye West and Madonna were among the artists who tweeted tributes.
"David Bowie was one of my most important inspirations, so fearless, so creative, he gave us magic for a lifetime," West tweeted. Madonna tweeted that Bowie "changed my life!"
His often androgynous personas also served as inspiration for countless gay and transgender entertainers to come.
One of the most artistically adventurous musicians to surface in the 1970s, he also connected with several hit singles and albums. Among them: "Changes," which was emblematic of his chameleonic artistry, "Rebel Rebel," "Young Americans" and "Fame," a collaboration with John Lennon that took him to the top of the Billboard Hot 100 singles chart in 1975.
His only other No. 1 hit came eight years later with the appropriately titled "Let's Dance," whose success landed him on the cover of Time magazine. In all he had eight top 20 singles and 14 top 20 albums, according to Billboard, among the 40-plus albums and 31 singles he placed on those charts.
Born David Robert Haywood Jones in Brixton, London, on Jan. 8, 1947, Bowie shared his birthday (albeit 12 years later) with the king of rock 'n' roll, Elvis Presley, to whom many critics often compared Bowie for his barrier-breaking influence on popular music.
He was a fan of early American rock and R&B performers such as Little Richard, Fats Domino and Frankie Lymon, and he began recording folk music with a range of bands in the 1960s. As his own career began to take off, he changed his surname to Bowie, largely to avoid confusion with Davy Jones of the Monkees.
David Bowie: A half-century of music
In 1969 he released the album "Space Oddity," whose title song became his first British top 10 hit. Under the influence of T-Rex's Marc Bolan, Bowie formed a short-lived band called Hype with guitarist Mick Ronson and bassist Visconti, who became a Grammy-winning producer with Bowie through his final album. A version of that group would evolve into the musicians behind some of Bowie's groundbreaking work at the beginning of the '70s, starting with "The Man Who Sold the World."
He followed that with the flamboyant "Hunky Dory" in 1972, which included "Changes," a single that reached No. 66 on the U.S. pop chart. The same year saw the debut of "Ziggy Stardust and the Spiders From Mars," a concept album that ignited a cult following through its provocative rock and the glittery garb the band wore onstage.
Bowie continued to record in that mode (the album "Aladdin Sane"), and he produced Lou Reed's breakthrough solo album, "Transformer." In 1973, Bowie disbanded the Spiders From Mars and soon began work on a musical translation of George Orwell's "1984," but he could not secure the rights to the novel. He renamed the project "Diamond Dogs" (though some of the "1984" elements remained) and launched an elaborate tour.
As anyone suspected who had seen his richly theatrical, character-driven concert tours, Bowie easily made the transition to acting in the mid-'70s.
In 1976 he played the alien visitor in Nicolas Roeg's "The Man Who Fell to Earth." The same year he released "Station to Station," which included the top 10 single "Golden Years." He moved to Berlin and began working with producer-songwriter Brian Eno on a trilogy of albums ("Low," "Heroes" and "Lodger") that often featured brooding electronics.
In 1977 he appeared in another film, "Just a Gigolo," alongside Marlene Dietrich and Kim Novak. He also starred with Catherine Deneuve in the 1983 supernatural thriller "The Hunger," after having starred in a Broadway production of "The Elephant Man" in 1980.
As the '80s unfolded, Bowie found it difficult to convince followers that his new music represented himself and not just another character.
"There's something unique about rock 'n' roll," he told The Times' then-pop music critic, Robert Hilburn, in 1987, "that makes everyone want to think that you are the same person off stage that you are on stage. I mean, no one looks at Bobby De Niro and says, 'Well, he changes his roles all the time, so therefore he's calculating and you can't trust him.'
"For me, rock was always about narrative or putting forward little stories and ideas, however strange or off the wall they might be.
"I guess it's flattering that everyone believed I was those characters, but it also is dehumanizing. I meet people all the time and I can see the mistrust in their eyes, like calculation is my middle name."
Bowie's influence seemed to reach into every corner of the pop music universe. Proto-punk rocker Iggy Pop, for whom Bowie produced the 1973, career-rejuvenating "Raw Power" album, tweeted that "David's friendship was the light of my life. I never met such a brilliant person. He was the best there is."
David Bowie: An unlikely hip-hop icon
In the seven hours after his death was announced Sunday night, Twitter reported that more than 4.3 million tweets had been written about Bowie and his influence.
ADVANCED LEVEL                                                                                                          4th DECEMBER
Happy 80th Birthday Woody Allen
http://www.woodyallenpages.com/2015/12/happy-80th-birthday-woody-allen/
December 1, 2015 · by William Miller · in Actors, Films, Music, Television, Theatre
Soon-Yi Previn and Woody Allen holidaying in Oviedo, July 2015
Woody Allen turns 80 on 1st December 2015. 80 years is a remarkable milestone. We thought about doing something big to celebrate. But Allen has grumbled all year about this day – and how it is like any other, how he will not be making a big deal of it, how there is no meaning in life and we are all going to die. So we will do our usual wrap up of Allen's year.
And what a 79th year. It started as usual with Allen's last film – Magic In the Moonlight – wrapping up its cinema release and coming to DVD and other home formats.
He added another film – Irrational Man – to his remarkable tally, now at 45. It coincided with another Allen appearance at the Cannes film festival, flanked by stars Emma Stone andParker Posey. There were magazine covers, newspaper features and red carpets. A yearly event – but still a big deal.
Jesse Eisenberg, Kristen Stewart and Woody Allen on the set of Allen's 2016 film, in Central Park NYC
He also wrapped production on a 46th film, the as yet untitled 2016 film that will star Steve Carell, Jesse Eisenberg and Kristen Stewart. He shot the film late summer in Los Angeles and New York. As usual the film is shrouded in secrecy.
The news no one saw coming was Allen's deal with Amazon. Allen signed on to create a 2016 Amazon Series for the SVOD service and spent most of the year writing it. We still don't know many details, but we expect them very soon.
This year also saw the release of an updated stand-up set. The Stand-Up Years 1965-1968 collected together Allen's three comedy albums from the 60s with more contemporary interviews. There were also more Allen films to big Blu-Ray for the first time. Love And Death, A Midsummer Night's Sex Comedy, The Purple Rose Of Cairo and Shadows And Fog.
The awards kept coming. Annie Hall was voted by the Writers Guild of America as the funniest screenplay of all time. Eight films in They Shoot Pictures. And Barcelona is looking to create a Woody Allen museum.
Jack Rollins, Woody Allen's manager for 60 years
Some friends passed away. Allen's manager for over half a century, Jack Rollins, died, aged 100. Edward Herrmann, who had top billing on 'The Purple Rose of Cairo' and Don't Drink The Water also died, aged 71.
Around the world, Allen's plays are still being performed. This year also saw the revival of Allen's staging of Gianni Schicchi, starring Placido Domingo, in Spain and LA. This year also saw the Bullets Over Broadway Musical hit the road on a US tour. And several new books about Allen were published. We spoke to three authors this year about them – David Evanier,Tom Shone and Jason Solomons.
Woody Allen performing with the Eddy Davis New Orleans Jazz Band in LA, 2015.
Throughout it all, Allen continued his decades long residency of playing jazz on Monday nights. For most weeks this year, Allen and the Eddy Davis New Orleans Jazz Band took to the stage at the Carlyle. They also found time to perform in Europe just before Christmas and the west coast in the summer.
Next year is the actual 80th year and looks to be another typically busy and eventful one. The Amazon series will arrive, and no doubt much will be made of Allen's return to New York on screen. Dozens more jazz shows at the Carlyle. Who knows what else. We're planning to still be here to cover it.
Happy 80th birthday Woody Allen. Thanks for all the films, the books, the plays, the jokes, the pages and pages.
ADVANCED LEVEL                                                                                                                                                                                                                                                                                                     6th NOVEMBER 2015
KNOW YOUR RISKS, BUT MEAT STILL ISN'T THE ENEMY
NOV. 2, 2015
Aaron E. Carroll
Smoking tobacco causes cancer. So does eating salted fish, drinking alcohol, breathing polluted air and being exposed to the sun. All of these things are classified as cancer-causing by the World Health Organization.
This week, processed meat has been added to that list, meaning that the world's attention has been focused on whether everyone should stop eating bacon, sausage or various charcuterie.
The short answer is no, you're probably fine. As with many pronouncements about food, this one is being overhyped by some news media outlets, and potentially over-interpreted by scientists.
I wrote about red meat back in March, focusing mostly on the cardiovascular risks, rather than the cancer risks. But I still highlighted and discussed some key studies, including one that found that eating meat, especially processed meat, was associated with increased cancer and mortality in people age 50-65. As I said, it also found that the opposite was true in people over 65 years, but that gets mostly ignored.
Based on epidemiologic data like these, 700 studies on red meat and cancer and 400 more on processed meat, the International Agency for Research on Cancer felt comfortable making the declaration that processed meat causes cancer and that red meat probably causes cancer. The specific meta-analysis of cohort studies they cited for their relative risk point estimate of 1.18 was published in PLOS One in June 2011.
As Geoffrey Kabat pointed out, it's worth noting that 25 years ago, the I.A.R.C. ruled that coffee was "possibly carcinogenic." Despite the huge amount of evidence to the contrary that has been published since, the agency has not changed its position. In fact, of the 985 substances the I.A.R.C. has classified, only one has been labeled "probably not carcinogenic to humans."
I've written before about the dangers of making assumptions about causes from observational studies. My review of the literature and that of the experts at the I.A.R.C. use the same data. We just reach different conclusions. I also find it hard to ignore the fact that randomized controlled trials do exist. The Polyp Prevention Trial failed to show any effect of a low-fat, high-fiber, fruit-and-vegetable diet on tumor recurrence even after eight years of follow-up tests. The Women's Health Initiative, which involved almost 50,000 women, also could not show that a change in diet reduced the risk of colorectal cancer after more than eight years.
The W.H.O.'s announcement makes trials like these much less likely to occur in the future, even though they haven't shown meat to be harmful. After all, if the W.H.O. has declared that processed meat causes cancer, how can we ethically randomize people to eat it?
But let's take the W.H.O. officials at their word that an actual link exists between processed meat and cancer. What's missing from the discussion is any talk about the magnitude of that risk.
The I.A.R.C. delivers an opinion only on whether a link exists, not on how strong it is. That's how tobacco smoke, an unequivocal and large risk, can be lumped in with alcohol, which probably has some benefits, and a rather small risk. The same goes for the sun, which surely can cause skin cancer, but which isn't something anyone would tell you to avoid altogether.
The I.A.R.C. published that for each 50 grams of processed meat eaten daily, the risk of colon cancer goes up by 18 percent. That sounds scary. But that's a relative risk increase. What we really need to know is the absolute risk increase. I went to the National Cancer Institute's colorectal cancer risk assessment calculator, and plugged in all of my information. I had to say I'm 50, because it doesn't have risks for people younger than that. It determined that 50-year-old me has a lifetime risk of 2.7 percent of getting colon cancer.
This means that, if I buy what the W.H.O. is saying, if I decided today to start eating an extra three pieces of bacon every day for the next 30 years, my risk of getting colon cancer might go from 2.7 percent to 3.2 percent. In other words, if 200 people like me made that decision, one extra person might get cancer. The other 199 would be unaffected.
That's not nearly as scary as what many headlines would have you believe. Even with all that processed meat (which I am not going to eat), a 0.5 percent increase in the lifetime risk of something is still pretty small. Eating it occasionally, which is more likely, is not going to affect my lifetime risk measurably at all.
Let's be clear. Rational people are willing to accept small risks of harm to obtain something they value. The example I always like to use is cars. The No. 1 killer of children in the United States is, by far, accidents. Every time we put a child in a car, we are exposing them to the thing most likely to kill them.
We don't see headlines like "Cars Found to Kill Kids in Record Numbers!" or "Putting a Child in a Car Increases Their Risk of Death by 20 percent!" That's because we have all recognized that while cars do increase the risk of a bad outcome, the gains from driving outweigh the potential and very small absolute risks of death.
The same is true of many things. I like Scotch. I like skiing. I like the occasional steak. All of these things may increase my absolute risk of death someday by some very tiny amount, but the daily happiness and satisfaction I gain from them outweigh those future, and most likely very small, risks.
What I said about red meat still holds, as do my recommendations for healthy eating. If you're consuming multiple portions of processed meat a day, then you may see some small benefit in the lifetime risk of cancer by cutting back. But if you're like most people I know, enjoying bacon or prosciutto a couple of times a week, this news most likely doesn't affect you at all.
Aaron E. Carroll is a professor of pediatrics at Indiana University School of Medicine. He blogs on health research and policy at The Incidental Economist, and you can follow him on Twitter at @aaronecarroll.
LEVEL 9TH OCTOBER ADVANCED 2015
http://www.reading.ac.uk/web/files/iwlp/how_to_become_a_successful_language_learner.pdf
How to become a successful language learner
By Alison Fenner
English and German Co-ordinator, Institution Wide Language Programme
Introduction
Your success in learning a language depends on you!
You may think that some people are just 'good at languages', but the greatest factor in your success is how much effort you are prepared to put in and how effectively you can learn to direct that effort. In this section you will find a lot of ideas on how to improve your language skills.
This advice will help you:
a) to tackle the set tasks during your language course;
b) to develop your language skills through independent learning outside the classroom. Reflecting on your own strengths and weaknesses will help you to focus your effort where it will most benefit you. Effective independent study will improve both individual skills and your overall performance, and it will also increase your enjoyment of language learning.
What is a good language learner?
Anyone can become a good language learner! A number of studies have tried to define which characteristics contribute to good language learning, and the consensus of opinion is that good language learners:
– are self-reliant, ready to work independently and take charge of developing aspects of their own learning;
– are motivated and enthusiastic;
– have a positive view of the target language and its culture;
– play an active part in class activities (and language-learning activities outside class);
– are not afraid of making mistakes;
– practise as much as they can!
Learning to think in the target language
This is mentioned several times in the ideas below. It may not be easy at first, but thinking in the foreign language is worth cultivating as a vital skill which will improve all areas of your language learning. To help you think in the target language, carry on a dialogue with yourself in that language e.g.
– when walking along, sitting on a bus, taking a break from other studies, whenever you can.
– Comment on what you can see or on what you have done today, for example, or summarise the main points from a topic you have studied recently.
As your knowledge of the language progresses and your vocabulary grows, you will find that you can say more and more. The sense of achievement which you will have will boost your motivation and encourage you further.
Developing the skills of vocabulary acquisition, reading, listening, speaking and writing
Learning/Extending Your Vocabulary
Find out what kind of learner you are in order to choose a method which works for you. How do you memorise best? Does it help you to read words out loud while looking at the written form, then to cover the word and say it again from memory, checking afterwards that you have got it right? Is it useful to carry out the above activity and then to write the word down from memory, again checking that you have got it right?
Other ideas for learning vocabulary:
– Visualise: some people who find it useful to have a visual stimulus write the new vocabulary on post-its and stick them around the room, so that they see (and say) the words frequently.
– Listen: Others record the words and play them when, for example, they are walking or travelling, repeating what they hear.
– Using cards: It can be effective to write a small amount of vocabulary on a number of index cards; each amount of vocabulary feels manageable, and the cards can be kept in a box, added to and revisited regularly to revise. Categorise your vocabulary according to topic.
Revise. It is very important to revise as much vocabulary as possible on a regular basis. Frequent short sessions of vocabulary learning, revisiting what you have learnt and adding new words and phrases, are more effective than occasional long sessions.
Define your goals. Learn a certain number of phrases or words associated with a topic per day or study session, and try to stick to your plan.
Which aspects of the word do you need to know? When you learn a word, you should also learn whatever you need to know about it e.g. its gender or plural, depending on the language. It can be helpful to learn the word not only as an individual unit but as part of a sentence, to give it context. So write out the sentence where you came across the word as well as the word itself and learn them both. This will help to increase your vocabulary further by learning the associated words.
J'ai vu le chat dans le jardin
Ich habe die Katze im Garten gesehen
He visto el gato en el jardín
Active and passive vocabulary. Since it may appear daunting to have large amounts of vocabulary to learn, distinguish between active use (in speaking and writing) and passive (receptive) use or recognition (in listening and reading). Your receptive store of vocabulary will be larger than your active store. You need to have more accurate knowledge of your active store.
Use your new vocabulary actively! Talk to another student (or your mp3 player!) about the topic whose vocabulary you have been studying, or write a short piece about it.
Developing your reading skills
Always read with a purpose. Which information are you looking for? Look carefully at the question or task. It's easier to read the text if you have a focus for your reading.
Use context clues. What is the title? Are there pictures and/or sub-titles which can give you clues and help you to predict the content of the passage?
Skimming and scanning (reading for general understanding and for detailed understanding). Skim through the passage without a dictionary to pick up the general gist, then scan it to extract specific information. Try to guess words from their formation or their similarity to words in your own language (although be careful, this can be misleading). Read through the passage again, highlighting any real problems. Now that you have made a general assumption about at least some of the meaning of the passage, you can reach for your dictionary. You don't have to look up or understand every single word; try to evaluate which words are the most important for your understanding. Check whether your initial assumptions were correct.
Use grammatical clues to help your understanding, such as tenses. Look at the shape of the sentence. Where are the verb and the subject? Ask yourself 'Who does what to whom'?
Read as many authentic texts as you can. Read newspapers, books, magazines. Pick out something which interests you, and make reading a pleasure!
Make active use of what you have learned! Use what you have read to produce written or spoken language. Summarise what you have read in note form, or talk to someone else (or yourself, or your mp3 player) about what you have read. This will help to embed the new topic vocabulary and structures in your memory and will help you to feel that you are really on the way to mastering a new topic.
Developing your listening skills
Listening skills are needed in a variety of situations e.g. listening to native speakers in real life situations, watching films or the television, listening to the radio or CDs, listening to other students in class or to your tutor. A conversation always consists of listening as well as speaking. Listening effectively helps you to respond appropriately.
Be aware of what you are listening for. In general conversation or when listening to the radio you might listen in order to grasp the gist (the general idea), whereas in a specific situation such as asking about train departure times you would need to listen for specific information. It is often easier to listen for the answer to a specific question since you already have an expectation of the kind of answer you may get.
'Help! You are talking too fast!' Try to learn a variety of phrases in the target language so that you can politely explain that you have not yet understood, or ask the speaker to speak more slowly, to repeat what he or she has just said etc.
Listening to recorded material. When listening to recorded material, gather as much information as possible from the context and the introduction, so that you can make some initial assumptions about the content of the passage.
Take note of the tone of voice used by the speakers, or their intonation, as further clues to meaning.
Listen to the whole passage first to get the gist and check your assumptions, then listen to it in shorter sections. 7. It is not usually necessary to understand every single word. In fact, trying to do so may hinder you because, while you are trying to puzzle out every word, the conversation or passage will have moved on and you will have missed the next part. Decide whether you need to listen for gist or specific detail and concentrate on what you really need to understand.
Listen to the target language as much as possible! You can listen to the course material and/or to a variety of different sources e.g. the radio, films, songs, recordings of plays and readers. If there are conversation groups available to you, join them; you will improve both your listening and your speaking skills.
Developing your speaking skills
Fluency and confidence come primarily from practising your speaking. Talk to a fellow student over coffee, talk to native speakers if you have the opportunity, learn poems or songs in the target language. Take every opportunity you can to speak, and have fun!
When speaking, try to find a balance between fluency and accuracy. You should of course aim for accuracy, particularly with certain aspects of the language such as tenses where, if you make a mistake, what you say may not make sense. However, it is also important to aim for fluency (as far as possible at your stage of learning), so do not let worrying about more minor points of grammar cause you to hesitate unreasonably. Try to keep the conversation going!
Saying things in different ways. The most frequently-encountered problem in speaking is coming up against some vocabulary or a structure which you 'don't know how to say' in the language. This often happens when you try to translate something from your own language word for word into the target language. Practise re-phrasing, altering what you were about to say so that its structure is more simple and uses vocabulary you know. As your language studies progress and you start to think in the target language, you will find this easier.
Pronunciation and intonation. To improve these, work with, for example, the CD which goes with your coursebook. Break a passage down into short sections such as a phrase or sentence and repeat each section after you hear it, trying to reproduce the pronunciation and intonation as exactly as you can. Try recording what you say on your mp3 player and compare it to the original recording. This will help to train your ear and improve both pronunciation and intonation.
Spoken presentations. When preparing for a spoken presentation, practise speaking from bullet points rather than a full script and, when you are practising, speak to an imaginary audience. This will help you to keep your intonation lively and natural
Developing your writing skills
The secret of successful writing in a foreign language is not to formulate it in your mother tongue and then to try to translate it. This can lead to awkwardness, clumsy style and errors. As you learn to think in the target language, your style and accuracy will improve.
Read the instructions for the task carefully to find out what is required. Read through your class notes and any preparation work done on the topic.
Planning. Plan the task carefully, fulfilling all the task requirements. Structure it so that you include an effective introduction and conclusion as required. Note down any ideas, vocabulary or structures that you want to use.
Collect target language expressions on how to introduce a topic, express contrasting arguments etc.
Write your essay, taking care to include any grammar structures specified (try to include an effective variety of vocabulary and structures). Keep to the word limit. Be aware of the register required by the task.
Check for accuracy. As you write, check any grammar structures, genders or spellings you are not sure of with your notes, grammar reference book and dictionary
Your written piece is finished; time for final checking! It may help you to focus on one aspect of the language at a time e.g. tenses and verb endings, then adjective agreements etc. If in doubt about a gender or spelling, check with your dictionary.
Bibliography:
Open University study skills sheets LLS 5b, 5d-g Klapper, J. (2006)
Understanding and developing good practice: language teaching in higher education. CiLT, the National Centre for Languages. Woodin, J. (2001).
Skills development and learning activities. In Arthur, L. & Hurd, S. (eds), Supporting lifelong language learning. CiLT in association with the Open University, 73-82.
Alison Fenner, 2011
ADVANCED LEVEL 8TH May 2015
http://www.toptenz.net/top-10-reasons-the-british-royal-family-is-awesome.php
Top 10 Reasons The British Royal Family Is Awesome
Adapted from the post by Mark Hill
10. Tourism Revenue
Attractions related to the monarchy bring in roughly 500 million pounds a year from overseas tourists. To be fair, many of these attractions are physical buildings that presumably wouldn't spontaneously combust if the monarchy was abolished, but the continuity of the Royal Family helps keep them relevant.
Two significant tourism attractions that weren't made of brick and mortar were Prince William and Kate Middleton's Royal Wedding, and the Queen's Diamond Jubilee. The former brought in an estimated 620 million pounds, while the latter was believed to have injected10 billion pounds into the British economy. Think of all the tea, crumpets and other hackneyed British stereotypes that could buy! The Jubilee was a massive success for British tourism.
9. They're Cost Effective
This may surprise you (if you don't read the titles of list entries for some reason,) but the monarchy is cheap enough to actually turn a profit. It only costs British taxpayers 51 pence a person. The cost fluctuates with the state of the economy, so in tough times the royal budget is slashed.
8. Entertainment Value
As a nation where the news media spent more time covering the birth of Kanye West and Kim Kardashian's child than it did the Syrian Civil War, America understands the entertainment value of celebrities. Well, the Royal Family are the ultimate celebrities, with scads of reporters dedicated to letting the world know about everything about them. And that coverage isn't limited to Britain — in America, the Royals receive more coverage than climate change, which is a bit ironic considering that climate change is one of Prince Charles' pet causes.
But the point, aside from the fact that we may all be very dumb, is that the world loves to hear about the Royal Family. We'll eat up everything from scandals, like Harry dressing as a Nazi for Halloween, to Prince Charles doing the weather report.
If you need further proof of their popularity, pay attention to how the Family is received by the public while on tour. William and Kate's 2011 trip to Canada drew huge crowds and massive amounts of media coverage, and was generally considered to be a roaring success.
7. Extra Holidays and Parties
Not every discussion of the Monarchy has to come down to economics and international diplomacy. Some of its benefits are much simpler — more royal celebrations mean more holidays, and that means less time at the office and more time barbecuing.
Whether it's a holiday that's been celebrated for centuries, like the Queen or King's birthday, or a one-time bash like a Royal Wedding, nobody's going to say no to an excuse to sit on the couch and play video games all day. Some people, probably those who don't get invited to parties, will argue that extra holidays are bad for the economy. But as discussed earlier, the tourism value of the Royals more than makes up for that.
6. Diplomatic Value
One of the downsides of being a President or Prime Minister is that half of your country didn't vote for you. If you're a leader of a world power, this problem extends to foreign trips; it's hard to improve relations with a country you've recently ordered the bombing of.
That's an issue the monarchy can sidestep. The Royal Family is apolitical, so they can represent their country's culture without being a stand-in for controversial policies. It's not a coincidence that the well-traveled Royal Family represents a nation that, time and time again, is found to be one of the most well-liked in the world.
Sure, being an empire that once dominated the globe is handy for spreading cultural influence, too. But having a bunch of fancy people who can travel the world to judge crumpet competitions and give tea to orphans definitely helps.
5. Charity Work
It's hard to motivate people to give to charity. Sure, the happiness that comes from knowing you helped improve a stranger's life is nice, but wouldn't a trip to the bar be even nicer? You're never even going to meet those whiny war orphans. It's only worse when you're trying to get people to volunteer their time, because who wants to pick up garbage from the beach on a Sunday morning when they could be sleeping off a hangover?
The Royal Family does their best to set a good example, and for some of them charity is almost a full-time job. It's impossible to determine exactly how much financial benefit their work provides, though one study estimates that the Queen helps bring in. For starters, there are the charities that members of the Family started, such as Queen Elizabeth's Foundation for Disabled People. Royal charities do everything from providing mental health services to military veterans, to teaching dance to juvenile criminals.
4. Other Monarchies Are Doing Well
Any modern debate about monarchies inevitably revolves around the British royal family. But Norway, Sweden, Belgium, Denmark, Luxembourg, Spain, the Netherlands and Japan, among others, all maintain their royal families, and most are immensely popular.
And those countries are clearly doing something right, as you'll constantly find them near the top of development indices.
3. They're Popular
Popular opinion on the monarchy subscribes to the "if it ain't broke, don't fix it" philosophy, with polls consistently showing that the majority of the Queen's subjects want the system to stick around. That's not limited to people in Britain; polls in Canada and New Zealand, among other Commonwealth countries, have found that most people believe the monarchy remains relevant.
The popularity of the monarchy drifts around based on economic conditions and the current gossip, but the general trend is that more people remain in favor of the Royals than against it. And since they're a pretty harmless bunch, there's nothing wrong with giving the people what they want.
2. The Queen is a Badass
Look at that photo. Look at it! Everything about it is wonderful, from the Queen's steely-eyed gaze to the soldier's expression of amusement and pride.
In an era where even the slightest faux pas by a politician is torn apart on social networks and subject to hours of "analysis" by the news media, our elected officials are rightly terrified by the prospect of embarrassing themselves. The Queen doesn't have to worry about any of that crap. She can go out, do something awesome, look rad as all hell, and make people proud to call her their leader.
1. National Identity
We could argue about this issue all day, if we didn't have better things to do. But when it comes down to it, the Royals are an integral part of Great Britain's national identity. Britain without the royals would be like France without wine. No wonder the majority of Brits believe they're a key part of what it means to be British.
And really, if the Royal Family went away, what else would the English be famous for? Bad food? A soccer league where only, like, three teams are any good? Some third stereotype? No, the Royals give everyone, from the dapperest rich man to the toughest football hooligan, something in common to be proud of (or complain and gossip about.) If Britain gets rid of the Royal Family, who knows what will happen? America might follow suit and get rid of hot dogs and soft drinks, and then the whole world will just go straight to Hell.
ADVANCED LEVEL                                              27TH MARCH 2015
http://www.bbc.co.uk/history/people/king_richard_iiiKing
Richard III
Richard was the last Yorkist king of England, whose death at the Battle of Bosworth effectively ended the Wars of the Roses. He has become infamous because of the disappearance of his young nephews – the Princes in the Tower – and through William Shakespeare's play 'Richard III'.
In 2012, archaeologists began excavating beneath a carpark in Leicester, hoping to find Richard's final resting place. The search captured the public's imagination and the remains subsequently found were confirmed as those of Richard.
Photo: Portrait of Richard III by an unknown artist. (National Portrait Gallery)
More information about King Richard III
Richard was born on 2 October 1452 at Fotheringhay Castle in Northamptonshire. His father was Richard Plantagenet, Duke of York and his mother Cecily Neville. Richard had a claim to the English throne through both parents. We now know that Richard had a curvature of the spine, but the withered arm and limp of legend are almost certainly either fabrications or greatly exaggerated.
Wars of the Roses
His father's conflict with Henry VI was a major cause of the Wars of the Roses, which dominated Richard's early life. His father and older brother died at the Battle of Wakefield in 1460. In 1461, Richard's brother, Edward, became Edward IV and created him Duke of Gloucester. In 1470, Edward and Richard were exiled when Henry VI was briefly restored to the throne. The following year, they returned to England and Richard contributed to the Yorkist victories at Barnet and Tewkesbury which restored Edward to the throne.
The Princes in the Tower and seizure of the throne
When Edward died in April 1483, Richard was named as protector of the realm for Edward's son and successor, the 12-year-old Edward V. As the new king travelled to London from Ludlow, Richard met him and escorted him to the capital, where he was lodged in the Tower of London. Edward V's brother later joined him there.
A publicity campaign was mounted condemning Edward IV's marriage to the boys' mother, Elizabeth Woodville, as invalid and their children illegitimate. On 25 June, an assembly of lords and commoners endorsed these claims. The following day, Richard III officially began his reign. He was crowned in July. The two young princes disappeared in August and were widely rumoured to have been murdered by Richard.
The beginning of the end
A rebellion raised in October by the Duke of Buckingham, Richard's former ally, quickly collapsed. However, Buckingham's defection, along with his supporters, eroded Richard's power and support among the aristocracy and gentry.
Death of a warrior king
In August 1485, Henry Tudor, Earl of Richmond, who was a Lancastrian claimant to the throne living in France, landed in South Wales. He marched east and engaged Richard in battle on Bosworth Field in Leicestershire on 22 August. Although Richard possessed superior numbers, several of his key lieutenants defected. Refusing to flee, Richard was killed in battle and Henry Tudor took the throne as Henry VII.
http://edition.cnn.com/2015/03/22/europe/richard-iii-farewell/
Richard III: Farewell to a King
By Bryony Jones, CNN
Leicester, England (CNN)"God save King Richard!" A cry rings out in the bright spring air as the simple oak coffin of Richard III is carried away from the tower block-filled campus of the University of Leicester for the final time.
The medieval monarch's skeleton has been kept at the university since its discovery beneath a council car parking lot in the city sparked excitement around the world in August 2012.
But on Sunday the bones — which have been studied by archaeologists and experts from all fields in the years since — ended their tenure as scientific specimens and became, once more, the mortal remains of a king.
Some 35,000 people lined the streets of Leicester and the surrounding towns and villages as the cortege wound its way through the countryside to the site of Richard's final battle, Bosworth, where he died in 1485, before returning to the city for a commemoration at Leicester Cathedral.
The day began on the freshly-mown lawns in front of the university's Fielding Johnson Building, where a crowd gathered for a solemn service of farewell, dignitaries dressed in their Sunday best alongside students and local families clad in jeans and waterproof jackets in case of a March shower.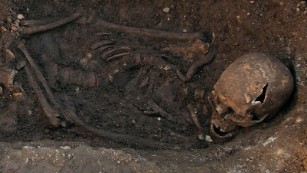 The remains of King Richard III
Leicester University student Anna Boyer, from North Carolina, said she and her classmates had come to watch the ceremony "so I can say I was here," adding: "It's an important historical event — we don't have things like this in the States."
Leicester alumni Sara and Leeroy Paskell brought their daughters Saoirse, 6, and Orlaith, 9, to watch the cortege pass by. "We thought it would be nice for the children to see it," said Sara Paskell. "It is amazing to be part of history, it makes me really proud of the university and of Leicester."
That pride is something which those who helped in the search for Richard III share.
Leicester University's president and vice-chancellor Paul Boyle said the discovery of the bones had been a "defining moment" which "reshaped history," and pointed out that the university had been custodian of Richard III's remains for longer than he ruled England.
Genetics expert Turi King, who proved the identity of the bones by matching their DNA to a living relative of the monarch, Michael Ibsen, said: "It has been an amazing project to be part of — we all feel very privileged to be involved."
Richard III: The mystery of the King and the car parking lot
King, who read Robert Frost's poem "The Road Not Taken" at the university service and laid a white rose — a reminder of Richard's heritage as a member of the House of York — on the coffin, said she considered the commemorations the end of a chapter in his story, but not the end of the story itself; she is still working to sequence his entire genome.
Michael Ibsen and another living relative of Richard III, Wendy Duldig, were there as the hearse carrying the coffin pulled away from the somber grey-brown bricks of the Fielding Johnson Building; accompanied by archaeologist Richard Buckley, who led the dig which uncovered the King's bones, they walked silently behind as the cortege's journey began.
Thousands of people lined the route of the procession, out through the Leicestershire villages visited by Richard III on his way to the Battle of Bosworth.
Perched on fold-up picnic chairs they gathered on roadside verges, along pavements decorated with bunting, flags and paper chains of white Yorkist roses, and in pub car parks to be entertained by folk dancers as they waited for the coffin to pass by.
At Fenn Lane Farm, thought to be the closest location to the spot where Richard III died, earth from three key points in his life was placed in a casket carved with his symbol, a boar.
King Richard III's bones reveal fatal blows, scientists say
The casket, and the procession, then made their way to Bosworth, where they were greeted by men dressed in medieval armor. Here, Richard's role as a "warrior king" was commemorated and tributes were paid to the others who died fighting alongside him. A beacon, which will burn until he is laid to rest on Thursday, was lit on the battlefield.
Back in Leicester, thousands more gathered around the cathedral and in nearby Jubilee Square.
Waiting to go in to the service, Judy Ellis, from the nearby town of Hinckley, said there was a "real buzz" around the city. "It's quite exciting, coming over on the train I met people who'd come from all over the world to be in Leicester today."
Ellis, who named her son Richard, said she had used the parking lot where the king's remains were found.
"Four days before the dig started I parked my car over that grave!" she said.
Adults — some carrying single white roses and others wearing boar badges — in village churches along the route watched the services play out on a big screen as children ran around in the late afternoon sunshine while they waited for Richard's return.
In 1485, the defeated king's body was treated with little sense of occasion. It is said to have been slung naked over a horse and taken to Leicester, where it was put on display for three days before being hurriedly crammed into a too-small plot in the Grey Friars Church.
Five things we've learned about Richard III since he was found
More than five centuries on, those who sparked the search for Richard III's remains were determined to put right that ancient wrong by giving him a more fitting farewell.
Philippa Langley, who led the "Looking for Richard" project, said its aim was "to give Richard what he didn't get in 1485 … to recognize what went on in the past, but not repeat it, to make peace with the past."
To that end, the king's skeleton is to be given two things it did not have before: a coffin and proper burial rites.
The coffin is a simple affair: English oak and yew, made by Richard's relative Michael Ibsen who, as chance would have it, is a cabinet maker by trade; it is carved with the king's name and a white rose.
The burial rites are somewhat more complicated: they have entailed the rebuilding of parts of Leicester's cathedral, a guest list numbering into the thousands and delicate questions of location and religion.
But with those puzzles overcome, the first of several high profile pre-reinterment services was held Sunday evening: The coffin was carried through the city on a gun carriage, accompanied by two "knights" in full suits of armor, riding on horseback, to the cathedral.
Those who had gathered to pay tribute to Richard III threw roses into the procession's path as it passed the new visitor center which has been built over his original resting place.
A coffin fit for Richard III: King's remains reinterred in Leicester
As the city's church bells tolled and dusk began to fall, the coffin was lifted onto the shoulders of the pallbearers and taken into the cathedral, accompanied by four official "mourners" — descendants of some of those who fought with Richard at Bosworth.
Once inside, it was covered with a heavily-embroidered cloth, and a Bible and specially-commissioned crown were laid atop the casket, the latter by a local Brownie, 9-year-old Emma Chamberlain, whose height meant a step had to be placed next to the coffin to allow her to reach it.
In his sermon, the Archbishop of Westminster, Cardinal Vincent Nichols alluded to Richard III's controversial reputation and "tumultuous life," which had seen moments of "astonishing brutality."
Nichols said the king's short reign was "marked by unrest and the fatal seepage of loyalty and support" but insisted that he was also "a man of prayer, a man of anxious devotion" and one who had done good for his people.
As those who had attended filed back out into the darkening spring evening, one final illuminated tribute was paid: the initials RIII and a crown were projected onto the cathedral's tower, while nearby, white roses surrounded a statue of the king.
As she left the service, Victoria McKeown, who won a ticket to the event, said the experience had been "brilliant" and the memorial "absolutely lovely."
"It's a lovely way to spend a Sunday evening — not like being at home doing the ironing," she told CNN. "It's part of history: I can say 'I've been to a king's funeral.'"
WATCH THE VIDEOS RELATED TO THIS TOPIC AT
http://edition.cnn.com/2015/03/22/europe/richard-iii-farewell/
http://edition.cnn.com/2015/03/21/europe/richard-iii-leicester-coffin/
ADVANCED LEVEL                                                                                                           20TH FEBRUARY
OSCARS LISTS: RECORDS AND CURIOSITIES…
http://www.eudesign.com/oscars/osc-curi.htm
Over the years since its inception in 1927/8, the Oscars awards ceremony has led to a number of curious records and coincidences, and even the occasional incident. Below are detailed just a few…
SWEEPING THE BOARD
Three films share the record for the highest number of awards received: the 1952 epic BEN-HUR set the record by achieving 11 out of a possible 15 Oscar categories (nominated in 14 of them). Since then James Cameron's TITANIC (1997) and Peter Jackson's LORD OF THE RINGS: THE RETURN OF THE KING (2003) have each won 11 out of a possible 17 Oscars (nominated in 12 and 11 categories respectively). This site includes a comparison of awards for the first two films. The film currently holding 4th place for total Oscar awards is the 1961 musical WEST SIDE STORY, which won 10 Oscars.
TITANIC shares a different record for most nominations (14 out of 17 possible) – alongside Joseph L. Mankiewitz's ALL ABOUT EVE (winner of Best Film in 1950), nominated in 14 out of 15 possible at the time but going home with only six.
The only film produced outside of America or Britain to have such sweeping success is Bernardo Bertolucci's 1987 Chinese/Italian co-production THE LAST EMPEROR, which won all nine of its nominated categories. However several U.S. produced films have had greater nominations ("Gone With The Wind", "From Here To Eternity", "Shakespeare In Love", "Forrest Gump" and "Chicago" sharing 13 nominations each).
The most Oscar-successful British film to date is Richard Attenborough's epic bio-pic GANDHI, which achieved 8 awards for 1982, including Best Film, Best Director, Best Original Screenplay, Best Actor.
A complete sweep of all five major Oscars (for Best Picture, Director, Screenplay, Actor and Actress) has only occurred three times: for IT HAPPENED ONE NIGHT (1934), for ONE FLEW OVER THE CUCKOO'S NEST (1975), and for SILENCE OF THE LAMBS (1991). The most recent films to come close by winning 4 of the top 5 awards were 1994's "Forrest Gump" (which had no Best Actress nomination) and 1999's "American Beauty" (which failed to win Best Actress award).
SINGLED OUT
WALT DISNEY holds the record for the highest number of individual Oscars awarded… In his lifetime he received 20 Oscars, but he was posthumously awarded a further 6, making a total of 26. Of all the statuettes awarded him, the most famous "set" were an Oscar and seven miniature statuettes in 1938 for the film "Snow White And The Seven Dwarfs".
The youngest person ever to receive an Oscar was the 5-year-old SHIRLEY TEMPLE in 1934, when she received an Honorary one (called a "Special Oscar" at the time) for achievements in several films. Otherwise the youngest person to win a competitive Academy Award is TATUM O'NEAL, who was 10 years old when she achieved Best Supporting Actress for 1973's "Paper Moon" (in which she starred alongside her father Ryan O'Neal).
GEORGE BURNS was the oldest Oscar winner in a competitive category when he won the 1975 award for "The Sunshine Boys" at age 80, until at the 1989 awards 80-year old JESSICA TANDY won Best Actress for "Driving Miss Daisy". She later surpassed even that mark by receiving her second Oscar nomination in 1991 at age 82 (for "Fried Green Tomatoes"). However MYRNA LOY is the oldest female recipient of any Oscar, having been given an Honorary Award in 1990 when she was 85 years old. GROUCHO MARX is the oldest male recipient, having been given an Honorary Award in 1973 when he was 83 years old.
BEST FILMS
It is rare for the "top" Oscar to be awarded to anything other than an "epic" drama or war film, or a "feelgood" film touching on illness or disabilities (eg. Mrs.Miniver, The Lost Weekend, Marty, One Flew Over The Cuckoo's Nest, Rainman, Forrest Gump, A Beautiful Mind).
The 1998 winner SHAKESPEARE IN LOVE was the first "romantic comedy" to win Best Film since IT HAPPENED ONE NIGHT 64 years earlier in 1934 (although some argue that Woody Allen's winning 1977 neurotic comedy ANNIE HALL comes close to being in the same category).
DANCES WITH WOLVES (1990) was the first "western" for 60 years to win the Oscar for Best Film, despite it being the only American-invented film genre. The previous western winner was CIMARRON in 1930/1, and since 1990 the only other western to achieve the top award has been Clint Eastwood's UNFORGIVEN in 1992.
An era of "musical" Best Films ended suddenly with OLIVER! in 1968, since when no musical (except for 2002's CHICAGO) has won the award. Yet in the previous decade from 1958-67 the top Oscar had also gone to four other musicals (Gigi, My Fair Lady, West Side Story, The Sound Of Music). Biggest victim of the apparent decline in musical appreciation was 1972's "Cabaret" (8 awards but not best Best Picture).
David Lean's 1962 epic LAWRENCE OF ARABIA is unique in being the only film to win the Best Film award without containing a single female speaking role. In fact the only female featured in the entire film is a camel named Gladys!
COLOUR
Throughout its first 73 years until March 2002, the Best Actor Oscar had only been won by a black man once – by SIDNEY POITIER for "The Lilies In The Field" in 1963, despite the emergence of strong roles for coloured actors and actresses from the 1960s onwards.
Meanwhile, only three black American actors had won the Best Supporting category, and all comparatively late on: LOUIS GOSSET Jr (1982), DENZIL WASHINGTON (1989) and CUBA GOODING Jr (1996); and in the female arena only WHOOPIE GOLDBERG (1990) had matched the singular achievement of Best Supporting Actress 51 years earlier by HATTIE McDANIEL (1939).
Finally in 2002 the 74th Award show saw Afro-Americans win both top honours, and both in the same year – Best Actress for the first time, and Best Actor again at last: first HALLE BERRY (for her 2001 performance in "Monsters Ball") and then DENZIL WASHINGTON (for his portrayal of a bad cop in "Training Day"). Two years later JAMIE FOXX was nominated in both acting categories (the only person ever to have achieved this double) for his Leading Role in the biopic "Ray" (for which he won the Oscar) and his Supporting Role in "Collateral".
ACTORS
Several actors have won 2 oscars in their careers, but only WALTER BRENNAN and JACK NICHOLSON have achieved a record 3 Oscars for Best Acting in Leading and/or Supporting roles.
LAURENCE OLIVIER was nominated 11 times (10 for acting roles) during his career – a record only surpassed recently by JACK NICHOLSON with his 12th acting nomination in 2002.
SPENCER TRACY was the only actor ever to achieve the Best Actor award two years in succession (in 1937 and 1938, for "Captains Courageous" and "Boys Town") – until TOM HANKS repeated the feat in 1993 and 1994 (for "Philadelphia" and "Forrest Gump")… The only other actor to achieve a near-similar "repeat" accolade is JASON ROBARDS, who won the award for Best Supporting Actor in both 1976 and 1977 (for "All The President's Men" and "Julia").
BARRY FITZGERALD is the only person ever to have been nominated for the same role in both Best Supporting Actor and Best Actor categories, after his 1944 performance as a priest in "Going My Way". He ultimately won the award for Best Support, the Best Actor award going instead to the film's fellow priest and crooner BING CROSBY… Since then, the Academy's rules have been changed to prevent a nomination in both categories.
Several people have been nominated for different portrayals of the same character (either in the same film or in different films), but MARLON BRANDO (for "The Godfather", 1972) and ROBERT De NIRO (for "The Godfather II", 1974) are the only persons to have actually won Oscars for performances as the same character (being that of Don Corleone).
ACTRESSES
KATHERINE HEPBURN achieved and still holds the record of four Oscars for Best Female Acting in a Leading and/or Supporting role. Nominated 12 times (and all for Leading Roles only) during a span of 48 years, her four Oscars were awarded for 1933 ("Morning Glory"), 1967 ("Guess Who's Coming To Dinner"), 1968 ("The Lion In Winter") and 1981 ("On Golden Pond").
Among all other actresses only INGRID BERGMAN has approached close to Hepburn's unique feat, with 3 Oscars awarded for 1944 ("Gaslight"), 1956 ("Anastasia") and 1974 (with her Supporting Role in "Murder On The Orient Express"). Ingrid Bergman's tally is perhaps all the more remarkable considering that she was ostracised by the Hollywood community for several years after 1948 because of her married affair with Roberto Rossellini (Italian director of "Stromboli").
LUISE RAYNER was the only actress ever to achieve the Best Actress award two years in succession (in 1936 and 1937, for "The Great Ziegfeld and "The Good Earth") – until KATHERINE HEPBURN did the "double" in 1967 (for "Guess Who's Coming To Dinner") and 1968 (for "The Lion In Winter"). Curiously Hepburn's "two-in-a-row" feat also happened to match the previous achievement of her partner SPENCER TRACY…
Surprisingly, MERYL STREEP has just two Oscars (for a Supporting Role in 1979's "Kramer vs. Kramer" and a Leading Role in 1988's "Sophie's Choice"). With her 12th acting nomination (and 10th in a leading role) for 1999's "Music Of The Heart" she equalled the record for most-nominated actress set in 1981 by Katherine Hepburn, and surpassed it with her 13th nomination for a Supporting Role in 2002's "Adaptation". She still holds the record to the present day ("Doubt" in 2008 and "Julie and Julia in 2009 being her 15th and 16th nominations in a 31 year span comprising 13 for Best Actress and 3 for Best Supporting Actress).
WRITERS
Comedian-turned-director WOODY ALLEN has been nominated a record 14 times for Best Original Screenplay (as well as being nominated once for Best Actor and six times for Direction). Close behind (and also a director) is BILLY WILDER, with 11 nominations for Screenplay (and 8 for direction and 2 as producer).
Among writer-directors, only six people have won Oscars for Best Picture, Directing and Screenplay on the same night: BILLY WILDER, JAMES L. BROOKS, FRANCIS FORD COPPOLA, PETER JACKSON, ETHAN COEN and JOEL COEN.
PROTESTS and REFUSALS
The first ever Award winner to boycott an Awards ceremony was writer DUDLEY NICHOLS, who won "Best Screenplay" in 1936 for "The Informer" but refused to attend because of conflicts between the Academy and the Writer's Guild.
Only two people other have ever refused to accept an Academy Award. Both were Best Actors. GEORGE C. SCOTT refused his 1970 award for the title role in "Patton: Lust For Glory" because he detested the actual character of the man he had portrayed (although he had also stated in 1961 that he would never accept an Oscar award), and MARLON BRANDO refused his 1972 award for the title role in "The Godfather" as a means of publicising the cause of Native American Indians. In order to protest Hollywood's (and America's) poor treatment of Native Americans, Brando sent a woman who called herself SACHEEN LITTLEFEATHER to make a "refusal speech" on his behalf. In true Hollywood fashion however, she was later revealed as not a true Native American but just an actress playing the part of one…
In contrast, VANESSA REDGRAVE used her acceptance speech for Best Supporting Actress in 1977 (for "Julia") as a vehicle for speaking out live in favour of the Palestinian cause to millions of television viewers…
In 1973 ROBERT OPAL briefly interrupted the awards ceremony by streaking naked across the stage while live on national television. Presenter DAVID NIVEN immediately remarked off-the-cuff in front of millions: "Just think, the only laugh that man will ever get is for stripping and showing off his shortcomings."
While never refusing any awards, WOODY ALLEN has always refused to attend the ceremony or acknowledge his three Oscar wins (for writing and directing 1977's "Annie Hall" and for writing 1986's "Hannah and Her Sisters"). He has broken this pattern only once, appearing unannounced at the Academy Awards ceremony in 2002 to make a plea for producers to continue filming their movies in New York City after the 11 Sept 2001 attacks. There he stated onstage "I didn't have to present anything. I didn't have to accept anything. I just had to talk about New York City", and was given a standing ovation before introducing a montage of movie clips featuring New York.
NIVEL AVANZADO 23RD JANUARY 2015
http://www.theguardian.com/stage/2014/dec/10/women-on-the-verge-on-stage-theatre-almodovar
Women on the verge of song and dance: why Almodóvar's world is pure theatre
A musical version of the Spanish director's famous farce might seem an odd idea but, as a tour of his Madrid reveals, Almodóvar's taste for the surreal is perfectly suited to the stage.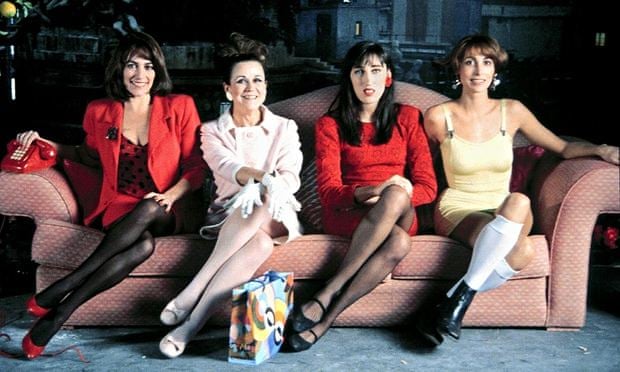 Women on the Verge of a Nervous Breakdown (1988).  Allstar/EL DESEO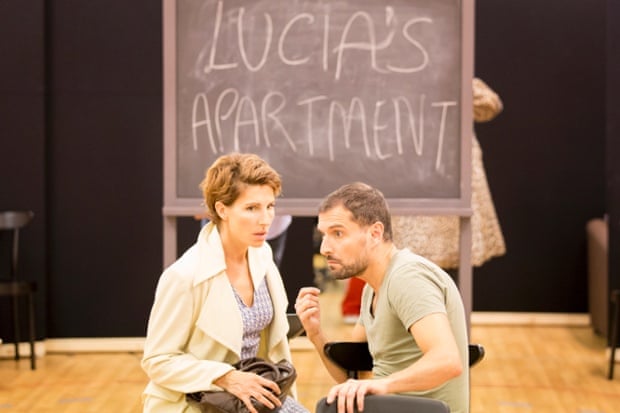 Tamsin Greg (left) in the new London musical version. Photograph: Johan Persson
As a musical version of Women on the Verge of a Nervous Breakdown starring Tamsin Greig prepares to open in London's West End, I'm in Madrid to explore the reality behind Almodóvar's films: the city is so prominent in them that it sometimes feels like a genuine character.
It is, I am beginning to realise, more like the world of theatre itself, all of which makes a live-action, singing-and-dancing Women on the Verge seem a little less surprising. After all, from the Cocteau-influenced Law of Desire to the Lorca-tinged Dark Habits, his films feel steeped in the stage. He is probably the only film-maker in history who has placed scenes from A Streetcar Named Desire and Lorca's Blood Wedding in the same movie, namely All About My Mother. Streetcar in particular infiltrates the film – the heroine sees the play at a life-changing moment and becomes so obsessed that she takes a job as assistant to the woman playing Blanche, even going on stage as Stella at the last minute.
Then there's Talk to Her, the 2002 film in which a male nurse becomes fascinated with a woman he can see dancing from his apartment window. The great German choreographer Pina Bausch doesn't just make a cameo – the whole film is infused with the spirit of her Tanztheater, leaping from one visual extravaganza to the next. We think of Almodóvar as a cinéaste, fond of filming love letters to Bette Davis, Alfred Hitchcock and Douglas Sirk, but perhaps he's actually more like a theatre-maker who happens to work in the movies.
Women on the Verge is not the first attempt to put Almodóvar on stage. In 2007, Diana Rigg and Mark Gatiss appeared in All About My Mother at the Old Vic in London. But it's Verge, says director Bartlett Sher, that poses unique challenges. With the help of David Yazbek on the music and lyrics, and Jeffrey Lane's work on the book, Sher has performed major surgery on the musical since 2010, when it opened on Broadway and was called "a sad casualty of its own wandering mind" by the New York Times. "In Women on the Verge," says Sher, "reality gets torn apart. It's just so crazy, nothing is as you think it is. Everything is down the rabbithole."
In fact, you could almost say Almodóvar's picaresque tale of Pepa – who is spurned by her lover, chased through Madrid by his gun-toting wife, then drawn into an Islamist terrorist cell – is a fast-paced farce yelling to be put on stage. Theatre is more indulgent of disbelief than cinema: it's easy to see how Almodóvar's fondness for dream sequences and surreal plot leaps might translate. Music, too, is such a part of his universe that the most implausible ingredient of any musical – that someone might burst into song while waiting for a bus – hardly feels crazier than anything else, including the bit in Verge where two cops are drugged with gazpacho spiked with sedatives. "There's a heightened sense of conflict and drama," says Bartlett. "It's the kind of material that sings."
In Madrid, I have another appointment, with Agustín Almodóvar. Not only is he Pedro's younger brother, he has also produced every one of his films since 1987's Law of Desire, in addition to making fleeting cameos. A jowlier and more earnest version of his sibling, with a bald crown instead of the wild grey quiff, he sits with me in their airy production studio, explaining that theatre goes to the root of their work – right from their earliest days in the city.
Unable to enroll at Spain's national film school because of the Franco dictatorship, Pedro fell in with an avant-garde drama troupe called Los Goliardos (a medieval word meaning, roughly, "vagabonds"), performing outrageous versions of Lorca and Sartre to a bohemian audience. "They were doing The House of Bernarda Alba," says Agustín with a grin, "and the police came and shut it down because they thought it was subversive. We used that in our advertising for next time."
While with Los Goliardos, Pedro met an actress who would change everything: Carmen Maura. She encouraged him to stop fiddling around making bawdy super-8 films and do features instead. Maura ended up starring in his first – 1980's gleefully camp Pepi, Luci, Bom – and went on to play numerous redoubtable heroines, from the transsexual Tina in Law of Desire to Irene in Volver. Maura is not the only actress Almodóvar has collaborated with repeatedly: Penélope Cruz and Antonio Banderas have become familiar faces, alongside a reliable character cast. "It's almost like he has a repertory company," says Agustín. "Pedro calls it his family and he means it. You create blood ties with people you work with."
If Almodovár seems reluctant to be trapped by the conventions of cinema, this may have something to do with the Movida Madrileña. A carnivalesque movement that burst on to the Madrid scene after Franco's death in 1975, it comprised writers, musicians, designers, photographers, actors and artists, all joyously tearing down the restrictions imposed by Spain's authoritarian government. Performance blended into porn, comic-books appeared and influenced fashion, while drugs and partygoing became practically compulsory.
"It was the big bang, when everything bubbled over," says Agustín." He seems the sensible type. Was Agustín out partying with the best? He smiles shyly. "I was lucky enough to be a witness. Pedro protected me, he was my older brother. Now, in a way, the roles are reversed."
In the topsy-turvy, constantly evolving world of Almodóvar, it's hard to pick out consistent themes, but one might be the nature of identity: how we project ourselves to the world, who we appear to be versus who we really are. Even films that stray nowhere near a theatre – Bad Education, The Skin I Live In – pose questions about illusion and artifice, about gender roles, about roles of all kinds.
Talk to Her was born out of Pedro's friendship with Bausch, whose fascination with the relationship between the sexes nourished all her work. The brothers visited Wuppertal, her company's home, and shot fragments of two Bausch works, Café Müller and Masurca Fogo, for the film's opening and closing sequences. Café Müller's ambiguous, disturbing images of entrapment and control – female dancers drifting distractedly through a thicket of chairs manoeuvred by men – mirror the movie's own, says Agustín. "Pedro saw Pina as an artist who was totally original. There were no words in those scenes. Inner emotions were dramatised through movement."
Given his enduring fascination with the stage and stagecraft, has his brother ever been tempted to return to theatre? "There have been times," says Agustín, "but at the last minute he's always gone back to film. He likes the control."
About Women On The Verge Of A Nervous Breakdown
https://www.londontheatredirect.com/musical/1567/Women-On-The-Verge-Of-A-Nervous-Breakdown-tickets.aspx
Olivier-Award winner Tamsin Greig (Episodes, Green Wing, Jumpy, God of Carnage) makes her musical theatre debut, with Olivier and Tony Award nominee Haydn Gwynne (The Audience, Billy Elliot, Silent Witness, Death in Paradise), in the UK premiere of David Yazbek and Jeffrey Lane's new musical adaptation of Pedro Almodóvar's Oscar-nominated film Women on the Verge of a Nervous Breakdown at the Playhouse Theatre.
On the streets of Madrid, a city pulsing with art, industry, and passion, Pepa's world is unravelling. Her lover leaves her. And then she meets his wife. And his son. And his new girlfriend. Meanwhile, Pepa's best friend is tangled up in her own romantic crisis with a suspected criminal, leaving Pepa with only the taxi driver to help navigate the Gran Vía ahead.
Women on the Verge of a Nervous Breakdown was Almodovar's first international hit, which he based on Jean Cocteau's The Human Voice. The eclectic Spanish director, whose other films include Tie Me Up! Tie Me Down! with Antonio Banderas and Volver with Penelope Cruz, has been involved in the forthcoming musical production of his film.
Directed by Tony Award-winner Bartlett Sher (South Pacific, The King and I), this hilarious and heartfelt musical based on Pedro Almodóvar's award-winning trailblazing film celebrates women centre stage at the Playhouse from December. Book your taxi now.
Women on the Verge of a Nervous Breakdown tickets on sale now!
ADVANCED LEVEL                                                                                                                        12TH DECEMBER
http://www.bbc.com/news/entertainment-arts-30143250
Monty Python tune tops funeral songs
Monty Python's Eric Idle performed the 1977 track at the 2012 Olympics closing ceremony
Monty Python's Always Look On The Bright Side Of Life has become the most popular tune to play at a UK funeral.
A study by a chain of funeral directors found the 1979 Life of Brian song had overtaken Frank Sinatra's My Way as the preferred choice of music.
David Collingwood, of The Co-operative Funeralcare, suggested the findings represented "a generational shift in attitudes towards funerals, modern funerals are very much about personal choice," he added.
"The variety of songs played at funerals today illustrates how more and more people are choosing to personalise funerals, and celebrate their loved one's life with a fitting farewell."
Monty Python's irreverent song – which Eric Idle sang at the closing ceremony of the 2012 Olympic Games in London – rose from 13th place three years ago, to become the most popular funeral song this year.
"We wonder if it's the people who were young in the swinging '60s, who are now in their 70s and 80s, and if that's informing this trend," a spokesman told The Telegraph. "Monty Python, for example, is of a certain age."
Hymns The Lord Is My Shepherd and Abide With Me are the second and third most popular choices.However, more than 84% of funeral directors say hymns or classics are declining in popularity quicker than any other music type. A study of 30,000 funerals found only nine songs in the top 20 choices were traditional or classical pieces.
Popular choices in the top 10 include Angels by Robbie Williams and Queen's Who Wants To Live Forever. Television theme tunes, such as Match of the Day, Coronation Street and the Only Fools and Horses theme, also made the top 20. However certain songs were refused on the grounds of taste or inappropriate language include Relax, by Frankie Goes To Hollywood, God Save The Queen, by the Sex Pistols and John Lennon's Imagine.
"We will accommodate any individual request – no matter how unusual, providing it is legal and decent," said Mr Collingwood.
Top 20 songs played at a UK funeral
Always Look on the Bright Side of Life – Eric Idle
The Lord is My Shepherd – Traditional
Abide with Me – Traditional
Match of the Day theme
My Way – Frank Sinatra
All Things Bright and Beautiful – Traditional
Robbie Williams – Angels
Enigma Variations (Nimrod) – Elgar
You'll Never Walk Alone – Gerry and the Pacemakers
Cricket Theme/Soul Limbo – Booker T & the MG's (test match TV theme)
Canon in D – Pachelbel
My Heart Will Go On – Celine Dion
Last of the Summer Wine theme and  Only Fools and Horses theme
Time to Say Goodbye – Sarah Brightman and Andrea Bocelli
Four Seasons – Vivaldi
Ava Maria – Schubert
Coronation Street theme
You Raise Me Up – Westlife and  Over the Rainbow – Eva Cassidy
World in Union (Rugby Theme) – Dame Kiri Te Kanawa and other versions
Nessun Dorma – Puccini and Adagio – Bizet/Albinoni
Source: The Co-operative Funeralcare
ADVANCED LEVEL                                                                                                    14TH NOVEMBER 2014
http://www.com/item_98180.aspx#.VDvU7zo5IWo.mailto
6Most Bizarre Stuff Ever Stolen
Tons of Beach Sand
Police in Jamaica were trying to hunt down a group of thieves, suspected of stealing hundreds of tons of sand from a beach on the northern coast of the island. Hundreds of truckloads of sand went missing from Coral Spring beach but so far no arrests have been made and detectives suspect the tourism industry might be to blame, seeing as it could add value to their businesses.
The reason the sector was being investigated is due to the high demand for sand in Jamaica for hotel resorts. Now the government is worried there may have been a cover up within the police force because there have, so far, been no arrests over the months. Prime Minister Bruce Golding was cracking down on the investigation, ordering forensic tests on the coastal beaches to test it against the stolen sand.
2. A 10-ton Steel Bridge
There's a million-dollar gap in the Czech Republic's railroad budget thanks to the theft of a 10-ton bridge near the eastern town of Slavkov. The bridge burglary is being attributed to a "train gang" who reportedly arrived at Slavkov depot with forged paperwork claiming that the footbridge over the disused railway track had to come down.
Railway spokesman, Pavel Halla, claimed that the thieves said they had been hired to demolish the bridge, and to remove the unwanted railway track to make way for a new cycle route. "It was only after they had gone that checks were made and we realized we'd been had," Halla said. "The cost of replacing the bridge will run into millions."
The thieves then dismantled the bridge and 650 feet of track, and presumably, are selling it for scrap metal, which is a problem in the region.
Front Lawn Garden
Denise Thompson had a beautiful front lawn, thick and green. It was where her four children and two dogs played, and where she drank coffee on sunny mornings. Then someone stole it. They didn't even leave a note. Thompson and her children went away to visit her husband one morning. They returned to their Kilkenny neighborhood home. The family entered through the back door and everything seemed fine. Then Thompson opened the blinds on the large picture window in the front room. Oh my God, she thought, where is my grass?
She went outside to the swath of ugly, brown dirt that had replaced her lawn. She thought there might be a note to explain an accident, like when someone dings your car in the mall parking lot. There were no clues. Thompson canvassed neighbors and several reported a white truck and trailer parked at her house. No one thought it was suspicious. Just another landscaping job.
Thompson believes that a landscaping company messed up the address on a job.
4. A Condom Machine
Keith Bradford stole a condom machine of the wall in the toilet of a pub. Numerous witnesses saw him walking away with the machine so police followed him home and recovered the machine, 48 condoms and 127 quarters (and no he won't be winning the sneakiest criminal award).
5. A 400-pound Bronze Elephant Statue
On March 2012, an elephant went missing in Texas and its worried owners are offering a $500 reward for its return. The Darnell family last saw Bon Bon Babar chained to the front porch of their home on West Avenue F in the city of Garland. He couldn't have escaped on his own, the family says, because he's, well, a 400-pound bronze statue.
But although Bon Bon Babar isn't your typical living, breathing pet, the Garlands are still shocked and heartbroken that he's been stolen — particularly as he was a present Beverly Darnell had given to her husband, Gene.
Apparently, the theft happened in broad daylight while Beverly was home. The thieves were slick, leaving no trace of tire tracks or dolly tracks — leading the family to believe that the thieves picked it up and carried it to its new home. But the family isn't looking for revenge or to get anyone in trouble. They just want Bon Bon Babar back in one piece, and are willing to pay $500 for whoever brings him back.
6. A 350-lb Inflatable Gorilla
Missing from a Simi Valley, California, car dealership: an inflatable gorilla – which inevitably brings up the question of how the heck does one steal a 350-pound inflatable primate from the roof?
The gorilla was reported stolen from the roof of First Kia, 2081 First St. The gorilla is sometimes deflated when it's windy, and the dealership's employees assumed that's what had happened until someone climbed onto the roof and discovered it was missing. The dealership manager said he has no clue why thieves targeted the gorilla, or how they made off with the roughly 350-pound inflatable primate. "It's not something you can just go up on the roof and steal it," he said, adding that the gorilla was tethered down by cables. "It would take at least a few people to carry it."
ADVANCED LEVEL – 17TH OCTOBER 2014
http://www.bbc.com/news/world-europe-29564935
Malala and Kailash Satyarthi win Nobel Peace Prize
Pakistani child education activist Malala Yousafzai and Kailash Satyarthi, an Indian child rights campaigner, have jointly won the Nobel Peace Prize.
At the age of just 17, Malala is the youngest ever recipient of the prize.
The teenager was shot in the head by Taliban gunmen in October 2012 for campaigning for girls' education. She now lives in Birmingham in the UK.
Malala said she was "honoured" to receive the award, saying it made her feel "more powerful and courageous".
She revealed she found out the news after being called out of her chemistry class at her school in Birmingham.
"I'm really happy to be sharing this award with a person from India," she said at a news conference, before joking that she couldn't pronounce Mr Satyarthi's surname.
The Nobel committee praised the pair's "struggle against the suppression of children and young people".
Mr Satyarthi has maintained the tradition of Mahatma Gandhi and headed various forms of peaceful protests, "focusing on the grave exploitation of children for financial gain," the committee said at the Nobel Institute in Oslo.
The 60-year-old founded Bachpan Bachao Andolan, or the Save the Childhood Movement, which campaigns for child rights and an end to human trafficking.
Reacting to the news, Mr Satyarthi told the BBC: "It's a great honour for all the Indians, it's an honour for all those children who have been still living in slavery despite of all the advancement in technology, market and economy.
"And I dedicate this award to all those children in the world."
'Heroic struggle'
Thorbjorn Jagland, chairman of the Norwegian Nobel Committee, paid tribute to Malala's achievements.
"Despite her youth, Malala Yousafzai, has already fought for several years for the right of girls to education and has shown by example that children and young people too can contribute to improving their own situations," he said.
"This she has done under the most dangerous circumstances. Through her heroic struggle she has become a leading spokesperson for girls' rights to education."
The committee said it was important that a Muslim and a Hindu, a Pakistani and an Indian, had joined in what it called a common struggle for education and against extremism.
The view from Birmingham: Phil Mackie, BBC News
When she opened the Library of Birmingham last year, Malala Yousafzai charmed the crowd by referring to them as "fellow Brummies". It was a deft touch from a teenager who many believe is destined for a life in politics either here or in her native Pakistan.
She arrived in the city in horrific circumstances after surviving an assassination attempt and was treated at the Queen Elizabeth Hospital, home to the Royal Centre for Defence Medicine.
The expertise gained by medics who are used to patching up wounded troops from conflict zones, meant it was the best place for her treatment.
She remains an outpatient, and today the hospital trust praised her for her "remarkable recovery and fight to lead a full life as a vibrant and spirited teenager".
This year's prize is likely to be seen as an uncontroversial choice from a Norwegian Nobel committee which has not shied away from controversy in recent years, says the BBC's Lars Bevanger in Oslo.
Norway's relations with China are still suffering after a Chinese dissident won the peace prize in 2010, our correspondent adds.
Malala and Mr Satyarthi will now be invited to attend an award ceremony in Oslo in December to receive a medal and $1.4m (£860,000) pounds in prize money.
'Pride of Pakistan'
Malala first came to attention in 2009 after she wrote an anonymous diary for BBC Urdu about life under Taliban rule in north-west Pakistan.
She was shot when gunmen boarded her school bus in the Swat Valley.
Kailash Satyarthi said Malala was a 'wonderful young lady'
She has since recovered from the attack and has remained in the public eye, publishing an autobiography and addressing the UN General Assembly.
Pakistan's Prime Minister Nawaz Sharif congratulated Malala Yousafzai, calling her the "pride" of his country.
"Her achievement is unparalleled and unequalled. Girls and boys of the world should take the lead from her struggle and commitment," he said in a statement.
Indian Prime Minister Narendra Modi joined thousands of Twitter users praising the pair, saying the entire nation was proud of Mr Satyarthi's "momentous achievement".
He also congratulated Malala for her "journey of immense grit and courage".
Malala was named one of Time magazine's most influential people in 2013, and awarded the EU's prestigious Sakharov human rights prize that year.
Schoolgirls in Islamabad say they "are so very proud" of Malala Yousafzai. She had been hotly tipped to win last year's Nobel Peace Prize.
Her win in 2014 takes the number of women awarded the prize to 16 out of 95.
This year's record number of 278 Nobel Peace Prize nominees included Pope Francis and Congolese gynaecologist Denis Mukwege, although the full list was kept a secret.
Former NSA contractor Edward Snowden and Russian newspaper Novaya Gazeta had also been tipped as favourites for the award.
ADVANCED LEVEL, MARCH 2014
Richard Bach returns with 'part four' of Jonathan Livingston Seagull
Multimillion-selling author also publishing new memoir of encounter with spirit guides after his 2012 plane crash
Taking off again … Jonathan Livingston Seagull author Richard Bach. Photograph: Alamy
Jonathan Livingston Seagull, the adventurous bird who launched a million spiritual journeys in the 1970s, has flown back into view.
His creator, Richard Bach, sold millions of copies of the short fable about a seagull – "no ordinary bird" – when it was published in 1970.
He has now touched on Jonathan again, both in a just-published follow up to his 1977 spiritual memoir Illusions written after he nearly died in a plane crash in 2012, and in a new edition of Jonathan Livingston Seagull, out later this week and including "the never-before-published Part Four".
Bach said he never intended to write Illusions II, which has just been released as a Kindle Single and is his first comment on his near-death experience. "But after I was very nearly destroyed in an accident aboard my seaplane, I wondered if it were not an accident at all, but a test," he said in an announcement from Amazon.com. And "Kindle Singles gave me the opportunity to share my story immediately."
The short ebook tells of how Bach met his "spirit guides" – including Jonathan – following his plane crash, when his plane, known as Puff, clipped a power line.
"There's no blessing that can't be a disaster, and no disaster that can't be a blessing," writes the author, who on 14 February will also release a new "complete" edition of Jonathan Livingston Seagull.
Publisher Scribner, called the book a story for people "who know there's more to this living than meets the eye: they'll be right there with Jonathan, flying higher and faster than they ever dreamed".
An early review from the Washington Post said Illusions II was written in Bach's "signature tone of carefully modulated bliss". But reviewer Ron Charles took issue with the author's fall "into the dark trap of the New Age movement: the metaphysical recklessness that implicitly blames victims for their illnesses and misfortunes".
"Chatting with his messiah, Bach learns that the plane crash took place because he wanted it to, even prayed for it, as a kind of test of his mental abilities. 'I needed to know whether my beliefs would overcome every one of the problems,' he says. Ick. Try hawking that New Age goo to children dying of cholera in Haiti," wrote Charles, adding that while he is "truly grateful that Bach has recovered from this ghastly accident … I wish he could articulate his wisdom in fresher, sharper, more insightful ways."
As well as Jonathan, reveals Charles, Bach also meets his late sheltie dog Lucky in another vision, and a ferret, who tells him: "Love is the only power in the universe".
ADVANCED LEVEL 13TH FEBRUARY
Ordos: The biggest ghost town in China
By Peter Day Ordos, Inner Mongolia, China
In Inner Mongolia a new city stands largely empty. This city, Ordos, suggests that the great Chinese building boom, which did so much to fuel the country's astonishing economic growth, is over. Is a bubble about to burst?
A huge statue of the mighty warrior Genghis Khan presides over Genghis Khan Plaza in Ordos New Town. The square is vast, fading into the snowy mist on a recent Sunday morning. Genghis Khan Plaza is flanked by huge and imposing buildings. Two giant horses from the steppes rise on their hind legs in the centre of the Plaza, statues which dwarf the great Khan himself. Only one element is missing from this vast ensemble – people. There are only two or three of us in this immense townscape. Because this is Ordos, a place that has been called the largest ghost town in China.
Most of the new town buildings are empty or unfinished. The rampant apartment blocks are full of unsold flats. "It is a spectacular example of a new Chinese phenomenon, in many cities – unsold flats, unlet shops, empty office blocks" If you want to find a place where China's huge housing bubble has already burst, then Ordos is the place to come.
The story started about 20 years ago, with the beginning of a great Mongolian coal rush. Private mining companies poured into the green Inner Mongolian steppe lands, pock-marking the landscape with enormous opencast holes in the ground, or tunnelling underground. Local farmers sold their land to the miners, and became instantly rich. Jobs burgeoned. Ceaseless coal truck convoys tore up the roads. And the old city of Ordos flourished as the money flowed in.
The municipality decided to think big, too. It laid out plans for a huge new town for hundreds of thousands of residents, with Genghis Khan Plaza at the centre of it. Ten years later Ordos new town is an empty new city. And it is merely the most spectacular example of a new Chinese phenomenon, in many cities – unsold flats, unlet shops, empty office blocks. It looks to outsiders as though the great Chinese building boom is over, the real estate extravaganza that shook the world.
Western financial experts who fear a bursting of the Chinese real estate bubble point out that the Chinese economy is more dependent on house building than the United States economy was, before the sub-prime lending bubble burst in 2007.
Many Chinese local authorities seem to have become dependent on the proceeds of big land sales to developers. In the eyes of the critics, China's housing boom is becoming a disaster. Well, the authorities in Beijing have taken notice of the direst warnings. They have been taking official action to rein in the speculative buying of multiple apartments over the past two years.
Chinese economic commentators seem much less concerned than the Western doom-mongers. They are still confident that the technocrats in Beijing who have guided China's 30 years of spectacular economic growth will soon be able to balance supply and demand in the housing market.
The same relaxed attitude was apparent in a couple I met in a spacious apartment in Ordos, in the middle of a building site. They were buying the place as an investment, even though the delivery date keeps on slipping.
It is, of course, only some 25 years since Chinese people were permitted to buy and sell homes at all. Decades of pent-up demand are still being satisfied as the great wheel of Chinese urbanisation continues to bring millions of people in from the countryside to work in the cities.
Right now there are other worries in the Chinese system, typified by Mr Li, a man I met in Ordos, who had prospered when the local council bought up the land on which his family's shop had been located. He invested the compensation with local private financiers. It is common practice in China where there is a big grey market in private loans to private businesses who cannot get money from the big, official, state-owned banks. Mr Li's private financier naturally invested the money in property, and paid him interest every three months at the rate of about 40% a year. Mr Li had put the equivalent of over $1m (just over £600,000) into such schemes. For two years they paid out, but last year the interest payments began to dry up. Then one of the financiers disappeared.
This has become a very familiar story in China now, one that is making big headlines as some famously rich private finance people come up for trial on charge of huge financial irregularity. China's 68th richest woman, Wu Ying, is facing the death penalty for schemes she ran in her 20s.
At least half of Mr Li's money now seems to have disappeared. As a Mongolian, he told me he was very angry when it happened last year. But now his mood has changed to a curious, fatalistic resignation, quite unlike Genghis Khan.
"Once we were rich, and now we're poor again," said Mr Li, with something like a wry grin.
http://www.bbc.co.uk/news/magazine-17390729
ADVANCED LEVEL 13TH JANUARY
Collision and convergence in Truth and Beauty at the intersection of science and spirituality.
On July 14, 1930, Albert Einstein welcomed into his home on the outskirts of Berlin the Indian philosopher Rabindranath Tagore. The two proceeded to have one of the most stimulating, intellectually riveting conversations in history, exploring the age-old friction between science and religion. Science and the Indian Tradition: When Einstein Met Tagore recounts the historic encounter, amidst a broader discussion of the intellectual renaissance that swept India in the early twentieth century, germinating a curious osmosis of Indian traditions and secular Western scientific doctrine.
The following excerpt from one of Einstein and Tagore's conversations dances between previously examined definitions of science, beauty, consciousness, and philosophy in a masterful meditation on the most fundamental questions of human existence.
EINSTEIN: Do you believe in the Divine as isolated from the world?
TAGORE: Not isolated. The infinite personality of Man comprehends the Universe. There cannot be anything that cannot be subsumed by the human personality, and this proves that the Truth of the Universe is human Truth.
I have taken a scientific fact to explain this — Matter is composed of protons and electrons, with gaps between them; but matter may seem to be solid. Similarly humanity is composed of individuals, yet they have their interconnection of human relationship, which gives living unity to man's world. The entire universe is linked up with us in a similar manner, it is a human universe. I have pursued this thought through art, literature and the religious consciousness of man.
EINSTEIN: There are two different conceptions about the nature of the universe: (1) The world as a unity dependent on humanity. (2) The world as a reality independent of the human factor.
TAGORE: When our universe is in harmony with Man, the eternal, we know it as Truth, we feel it as beauty.
EINSTEIN: This is the purely human conception of the universe.
TAGORE: There can be no other conception. This world is a human world — the scientific view of it is also that of the scientific man. There is some standard of reason and enjoyment which gives it Truth, the standard of the Eternal Man whose experiences are through our experiences.
EINSTEIN: This is a realization of the human entity.
TAGORE: Yes, one eternal entity. We have to realize it through our emotions and activities. We realized the Supreme Man who has no individual limitations through our limitations. Science is concerned with that which is not confined to individuals; it is the impersonal human world of Truths. Religion realizes these Truths and links them up with our deeper needs; our individual consciousness of Truth gains universal significance. Religion applies values to Truth, and we know this Truth as good through our own harmony with it.
EINSTEIN: Truth, then, or Beauty is not independent of Man?
TAGORE: No.
EINSTEIN: If there would be no human beings any more, the Apollo of Belvedere would no longer be beautiful.
TAGORE: No.
EINSTEIN: I agree with regard to this conception of Beauty, but not with regard to Truth.
TAGORE: Why not? Truth is realized through man.
EINSTEIN: I cannot prove that my conception is right, but that is my religion.
TAGORE: Beauty is in the ideal of perfect harmony which is in the Universal Being; Truth the perfect comprehension of the Universal Mind. We individuals approach it through our own mistakes and blunders, through our accumulated experiences, through our illumined consciousness — how, otherwise, can we know Truth?
EINSTEIN: I cannot prove scientifically that Truth must be conceived as a Truth that is valid independent of humanity; but I believe it firmly. I believe, for instance, that the Pythagorean theorem in geometry states something that is approximately true, independent of the existence of man. Anyway, if there is a reality independent of man, there is also a Truth relative to this reality; and in the same way the negation of the first engenders a negation of the existence of the latter.
TAGORE: Truth, which is one with the Universal Being, must essentially be human, otherwise whatever we individuals realize as true can never be called truth – at least the Truth which is described as scientific and which only can be reached through the process of logic, in other words, by an organ of thoughts which is human. According to Indian Philosophy there is Brahman, the absolute Truth, which cannot be conceived by the isolation of the individual mind or described by words but can only be realized by completely merging the individual in its infinity. But such a Truth cannot belong to Science. The nature of Truth which we are discussing is an appearance – that is to say, what appears to be true to the human mind and therefore is human, and may be called maya or illusion.
EINSTEIN: So according to your conception, which may be the Indian conception, it is not the illusion of the individual, but of humanity as a whole.
TAGORE: The species also belongs to a unity, to humanity. Therefore the entire human mind realizes Truth; the Indian or the European mind meet in a common realization.
EINSTEIN: The word species is used in German for all human beings, as a matter of fact, even the apes and the frogs would belong to it.
TAGORE: In science we go through the discipline of eliminating the personal limitations of our individual minds and thus reach that comprehension of Truth which is in the mind of the Universal Man.
EINSTEIN: The problem begins whether Truth is independent of our consciousness.
TAGORE: What we call truth lies in the rational harmony between the subjective and objective aspects of reality, both of which belong to the super-personal man.
EINSTEIN: Even in our everyday life we feel compelled to ascribe a reality independent of man to the objects we use. We do this to connect the experiences of our senses in a reasonable way. For instance, if nobody is in this house, yet that table remains where it is.
TAGORE: Yes, it remains outside the individual mind, but not the universal mind. The table which I perceive is perceptible by the same kind of consciousness which I possess.
EINSTEIN: If nobody would be in the house the table would exist all the same — but this is already illegitimate from your point of view — because we cannot explain what it means that the table is there, independently of us.
Our natural point of view in regard to the existence of truth apart from humanity cannot be explained or proved, but it is a belief which nobody can lack — no primitive beings even. We attribute to Truth a super-human objectivity; it is indispensable for us, this reality which is independent of our existence and our experience and our mind — though we cannot say what it means.
TAGORE: Science has proved that the table as a solid object is an appearance and therefore that which the human mind perceives as a table would not exist if that mind were naught. At the same time it must be admitted that the fact, that the ultimate physical reality is nothing but a multitude of separate revolving centres of electric force, also belongs to the human mind.
In the apprehension of Truth there is an eternal conflict between the universal human mind and the same mind confined in the individual. The perpetual process of reconciliation is being carried on in our science, philosophy, in our ethics. In any case, if there be any Truth absolutely unrelated to humanity then for us it is absolutely non-existing.
It is not difficult to imagine a mind to which the sequence of things happens not in space but only in time like the sequence of notes in music. For such a mind such conception of reality is akin to the musical reality in which Pythagorean geometry can have no meaning. There is the reality of paper, infinitely different from the reality of literature. For the kind of mind possessed by the moth which eats that paper literature is absolutely non-existent, yet for Man's mind literature has a greater value of Truth than the paper itself. In a similar manner if there be some Truth which has no sensuous or rational relation to the human mind, it will ever remain as nothing so long as we remain human beings.
EINSTEIN: Then I am more religious than you are!
TAGORE: My religion is in the reconciliation of the Super-personal Man, the universal human spirit, in my own individual being.
ADVANCED LEVEL 13TH DECEMBER
GROO THE WANDERER: AN INTRODUCTION
The characters ………………………………………………………………………………………2
The setting ……………………………………………………………………………………………5
Running gags ………………………………………………………………………………………..6
The creators …………………………………………………………………………………………9
Publication history ………………………………………………………………………………..10
Awards and nominations …………………………………………………………………………11
Sergio Aragonés: a biography …………………………………………………………………..12
 Groo the Wanderer is a fantasy/comedy comic book series written and drawn by Sergio Aragonés, rewritten, coplotted and edited by Mark Evanier, lettered by Stan Sakai, and colored by Tom Luth. Over the years it has been published by Pacific Comics, Eclipse Comics (one special issue), Marvel Comics (under its Epic imprint), Image Comics and Dark Horse Comics.
Groo was one of the first widely successful creator-owned comics, one of the few successful humorous comic books during its time, and one of the longest-running collaborations in comic book history. In 2011 IGN ranked Groo 100th in the "Top 100 comic books heroes".
THE CHARACTERS
Groo (the epithet "the Wanderer" is informal and rarely mentioned within the stories) first appeared as a parody of the brutal sword & sorcery heroes who were popular at the time of his creation in the 1970s, especially Conan the Barbarian as presented in Marvel Comics. Groo is an ugly large-nosed buffoon of unsurpassed stupidity who constantly misunderstands his surroundings. Possessed of superlative skills in swordsmanship (the only task at which he's remotely competent) he delights in combat but otherwise is a peaceable and remarkably honest fellow who tries to make his way through life as a mercenary or by working odd jobs. Unfortunately he is also indiscriminate in the use of his battle skills (prone to joyously leaping into any fray before attempting to ascertain the reasons for the fight, or even who is on what side) and incredibly accident-prone, and despite generally good intentions causes mass destruction wherever he goes. Most of his adventures end with him oblivious to the mayhem he has wrought, or fleeing an angry mob. As a result, his penchant for destruction has become so widely known and feared that just the news of Groo approaching is sometimes enough to cause chaos when the population reacts to the impending disaster. Groo occasionally meets with respect and good fortune, but it does not last. Businesses, towns, civilizations and cultures have all been unwittingly destroyed by Groo. Such is Groo's incompetence that so much as stepping onto a ship (except in Rufferto's company) will cause it to sink. In issue 100 of the Groo series, volume 2, Groo learnt how to read.
The only thing that has kept Groo alive through all of his adventures is his excellent swordsmanship. Groo has slain entire armies on his own with nothing more than his swords, which appear to be a pair of katanas. Groo loves these frays, as he calls them, and often charges into the melee with a cry of "Now Groo does what Groo does best!", similar to Wolverine's catchphrase "I'm the best at what I do, but what I do isn't very nice". So great is his love for battle that Groo seldom bothers to consider which side he is fighting for, and goes on to slay soldiers from either side. Even when Groo does join battle intending to fight for a particular side, he is prone to forget which side he's on, or be tricked into fighting his unfortunate allies.
In all of his travels, Groo has encountered literally thousands of characters. However, there is an assortment of recurring characters:
Captain Ahax, who has, over time, become aware of  Groo's effect on ships. This doesn't help him or his sanity.
Arba and Dakarba, a pair of witches who have suffered much trying to take advantage of Groo. They have repeatedly been stripped of their powers because of him. Put their names together and they spell "Abra-kadabra" backwards.
Arcadio, a handsome warrior, with an especially pronounced chin, who is considered the greatest hero of his time. He has often enlisted Groo as his "lackey", and while Groo has succeeded in his quests time and again, Arcadio always gets the credit.
Chakaal, a beautiful female warrior who is Groo's equal in swordplay. Chakaal is strong, noble, and wise, and Groo is madly in love with her. She is as well known as a hero and skilled warrior as Groo is for being a walking disaster, and travels the land seeking people in need of her help. Though she respects Groo's prowess as a warrior, Chakaal is all too aware of his incompetence in other areas, as well as his general stupidity and lack of social graces, and finds Groo at best tolerable when she is in need of his sword, and contemptible otherwise. Romantically speaking, she considers his idiotic advances repulsive, and does her best to ignore them, though she is not above using Groo's feelings for her to convince him to help her in her quests, and will often use Groo as a decoy or sacrificial lamb.
Granny Groo, Groo's gypsy grandmother. Granny Groo often tries to use her grandson to aid her in her moneymaking schemes, but invariably ends up giving him a good spanking when he fails.
Grativo the Wizard, who often punishes Arba and Dakarba for their failures which usually involve Groo taking part on them. 
Grooella, Groo's sister. While she greatly resembles her brother, the two of them are totally different: Grooella is a Queen. However, her occasional reliance on her brother for aid has spelled disaster every time, and she despises him. Grooella had long, beautiful blond hair as a child, but one of Groo's "games" (which nearly always ended in the injury of at least one other child) damaged it so that it became black and frizzy. (The Sage developed a one-time-only formula to restore her hair, but Groo "erred" again and rendered the damage permanent.)
The Minstrel, a singing jester who speaks exclusively in rhyming couplets. He often likes to sing of Groo's deeds, but Groo seldom appreciates his unflattering descriptions of his bungling. The Minstrel seldom appeared in later issues, due to the difficulty of creating his dialogue – "Mark takes a stance, and if by chance / The Minstrel doesn't vanish, / Then Mark will go, and Sergio / can write this stuff in Spanish."
Pal and Drumm, two con men. The diminutive Pal is always looking for easy money, but his hulking partner Drumm is not very bright. Their dealings with Groo have often left them in trouble with the people they were scamming. Their names are a play on palindrome.
Rufferto, Groo's dog and inseparable companion. Rufferto ran away from his boring life as a spoiled and pampered royal pet to seek adventure, and endeared himself to Groo. In Rufferto's eyes, Groo is a hero and a tactical genius. Initially, Groo viewed Rufferto as a potential meal but eventually came to regard him as his faithful companion. Groo can also safely board a ship in Rufferto's presence. His collar is immensely valuable.
The Sage, a wise old man who is usually never far from Groo. The Sage often attempts to give Groo sound advice, but Groo's stupidity often means that the advice is misinterpreted and only makes situations worse. The Sage is never without his dog Mulch. The Sage has known Groo since childhood and often tells his tales for all who are willing to listen. In a behind-the-scenes episode, it is suggested that Aragonés had hired actor Robert Goulet to pose as the Sage. During Groo's quest for a magical amulet, it is shown that apart from Rufferto, The Sage is the only character in the Grooniverse who genuinely counts Groo as a friend.
Taranto, a corrupt general who has had his plans for glory dashed by Groo several times, and is obsessed with killing the wanderer. Groo can never remember whether he is friends with Taranto, or if Taranto wants to kill him.
Weaver and Scribe, a successful author and his amanuensis, who look suspiciously like Groo's own Evanier and Sakai.
THE SETTING
Groo's adventures take place in an environment that generally resembles Medieval Europe, although his travels have also taken him to places that resemble Africa, Indonesia, Japan, the Middle East and elsewhere. In addition to regular flora and fauna, dragons and other legendary creatures occasionally appear, and several cultures use dinosaur-like creatures as beasts of burden. Over the years, Groo has also encountered several "non-human" cultures such as the Kalelis and the Drazil. The currency in Groo's world is the Kopin. It should be noted that, although many technologies and peoples in Groo appear ancient, it cannot be set in a time too long ago due to innovations such as the printing press seen in it.
RUNNING GAGS
Groo's adventures have resulted in these "running gags" that have become staples for years.
Mendicant: Groo becomes violently angry whenever someone calls him a mendicant, even though he doesn't know what it means.
Early Groo tales began with a poem. Almost every Groo story ends with a moral.
The head of the minstrel's mandolin changes shape in every panel.
Cheese Dip: Groo's favorite food. Whenever Groo comes across money, cheese dip is the first thing that comes to his mind.
Mulch: This agricultural process is often mentioned in casual conversation. The Marvel/Epic Comics editions had a long-running gag in the letter column, in which fans would ask Mark Evanier to define "mulch" and he would oblige with the same dictionary definition in every issue. Later on, the gag evolved into Mark answering the question with: "We don't do that joke anymore."
"Did I err?": Groo's understatement when he surveys the destruction he has caused, and the closest Groo usually ever gets to grasping just what his effect on the world around him is. (A letter from a fan once pointed out that since "to err is human", the constantly erring Groo must be the most human character ever created.)
Groo can never remember whether he is friends with Taranto, or if Taranto wants to kill him. Groo likes Taranto, beyond his own memory capacity, and Taranto delights in attempting to manipulate Groo; hence their lopsided friendship renews near the beginning of each plot arc featuring them both.
"I am the Prince of Chichester.": Granny Groo once made Groo memorize this phrase (a Sisyphean ordeal) as part of one of her ill-fated scams. The con fell apart, but the phrase still sticks in Groo's head, and he says it from time to time when he cannot think of anything to say. (The in-joke here is that Daniel Chichester was editor of the comic book at the time.)
"What do you mean, 'slow of mind'?": Groo is often called "slow of mind", but it is usually much later in the story when he finally responds to it. The most extreme example was when Granny Groo called young boy Groo "slow of mind" in a flashback, and adult Groo in the present asked her what she had meant.
"I can plainly see that!": Groo's response to when somebody says "…as any fool can plainly see."
"What pirates?": To raise the reward for Rufferto offered by its previous owner, a Queen, Pal once told her that the dog had been kidnapped by pirates, who were demanding a ransom. Drumm asked "what pirates?" (there were none, of course) in front of the King and the Queen, and later in the story he kept asking Pal that. From time to time, he still asks "(and) what pirates?", especially when he's trying to kill Pal (usually at the end of a story) because one of his plans failed again.
The house Pal promised to buy Drumm. In a real estate scheme, Pal buys a house for Groo. Drumm wants one, too. Pal agrees, just to quiet him, but Drumm mentions the house quite often.
"I can drink eight beers! Bring me eight beers!" This phrase appears several times in the comics and was first spoken in issue #1 of Pacific Comics by Taranto. It was next spoken in issue #23 Marvel/Epic by Drumm.
Hidden Messages: Many of Groo's Marvel/Epic issues have a hidden message concealed in the artwork or the dialogue. The hidden message usually reads "This is the hidden message."
The Sage's dog: During the Marvel/Epic run of Groo, the question of what the Sage named his dog became one of the most frequently asked questions in the comic's letters page. Eventually, Evanier and Aragones made an announcement that the name of the Sage's dog would be revealed in an upcoming issue, an event which was first postponed from its first scheduled publication either to further the "suspense" or mess with readers' minds. Eventually, after a storyline in which the Sage's dog had been kidnapped and Groo aided him in recovering the dog, the "secret" was revealed in a throw-away moment, with Groo asking in a "by-the-way" manner what the dog's name was, and the Sage replying with the nondescript name, "Mulch" (in itself a reference to another running gag in the Marvel/Epic run, see above).
Creators: in almost every issue, one frame has the four creators somewhere among the people (travellers, soldiers, passers by).
Issue #1: Because of its unusual publication history (see below) there have been at least three different issues of the comic book that were numbered as the "first" issue. Part of the reason for this is that first issues tend to have higher sales and each publisher took advantage of this by starting the numbering over again when they took over. Aragonés satirized this by proclaiming that every issue he wrote was #1.
     
THE CREATORS
Groo is initially plotted, roughly written (it has been said that Aragonés does to English, his third language, what Picasso did to faces), and roughly drawn by Aragonés, after consulting with Evanier. Evanier then writes the dialog, poetry, moral, acts on "insert joke" or "insert Mark-ism" instructions, and changes things around if needed, and then returns the work to Aragonés, who may or may not change things back. Sakai then does the lettering, after which Aragonés does the final artwork, including the word balloons. Finally, Luth does the coloring, described as an unenviable task, since Aragonés' artwork is usually quite detailed (with fancy clothing, building and nature scenes inspired by National Geographic and other sources) and can be full of hundreds of people in one scene. (In one behind-the-scenes sequence Luth despairs over a detailed crowd scene when Evanier points out that "These two (background figures) are twins, you can paint them the same color.")
Evanier also answers the letters page, something he takes special pride in, since the practice in mainstream comics is to pass this task off to low-level assistants, something he didn't know when his own teenage fan letters were published. He claims that no one knows what he does, and that he doesn't get paid. His official credit, during the Marvel/Epic run, was usually a ludicrously polysyllabic title that changed every issue.
Caricatures of Aragonés, Evanier, Sakai, and Luth often appear as background characters within the stories, sometimes with family members. Evanier and Sakai are also the role models for the characters Weaver and Scribe.
Rufferto was based on Aragonés' own dog named Rufferto, who is actually more mottled than spotted.
   
PUBLICATION HISTORY
Aragonés created the character of Groo in the late 1970s. However at that time no comic book company would allow creators to retain the rights to their characters and Aragonés did not wish to surrender those rights. In 1981, a comic book, Destroyer Duck #1, was published by Eclipse Comics as a benefit to raise money for a legal battle over creator rights; a four-page story contributed by Aragonés featured Groo's first published appearance. His second appearance was a few months later in a back-up story in Star-Slayer #5, published by Pacific Comics.
In 1982, Pacific Comics began publishing Groo The Wanderer as a regular series. However, Pacific faced various financial difficulties and was only able to publish eight issues of the title. With Pacific unable to publish new material, a single shot issue of material that was originally written for them, titled the Groo Special, was instead published by Eclipse. It should be noted that when Groo was with Pacific, he was not portrayed as a bumbling idiot like was in future issues starting with Epic line. In fact, one issue had him use his brains to create sophisticated traps and his speech was similar to Conan the Barbarian's.
Aragonés and Evanier eventually negotiated a deal with Epic Comics, an imprint of Marvel Comics, for that company to take care of publication while preserving creator rights. This resulted in the longest run of Groo the Wanderer with 120 issues. In 1994, with Marvel facing financial difficulties, the title switched to Image Comicsand was retitled Groo. (In the first issue Groo was heard to remark "The marvels of the world are but images before me.")
When Image in turn faced legal problems after publishing twelve issues, the title switched to Dark Horse Comics in 1998. Dark Horse is not publishing the title as a regular series but is releasing new material, as well as reprints, as periodic mini-series and collections.
At the 2007 WonderCon, the creators revealed that since 2005 they've been trying to produce a Groo / Conan crossover (both titles are published by Dark Horse) which would have the Wanderer encountering the Barbarian whom he has parodied. Unfortunately the project has encountered a number of postponements, but they believe the project may finally be coming to fruition. On September 9, 2007, Longtime Groo writer, Mark Evanier revealed that the Groo/Conan project is a go with no official release date as of yet.
AWARDS AND NOMINATIONS
Sergio Aragones received the National Cartoonist Society Reuben Award for 1996 for his work on Groo and Mad Magazine. In 2009, Groo: Hell on Earth was nominated for the Eisner Award for Best Limited Series.
The comic protagonist of the same name has also received positive reviews. Wizard magazine ranked him as the 135th greatest comic book character of all time  while IGN ranked Groo as the 100th greatest comic book hero of all time stating that "…while he may not be the brightest bulb on the battlefield, Groo is an earnest and kind-hearted adventurer whose travels are never short on laughs and adventure."
SERGIO ARAGONÉS: A BIOGRAPHY
Sergio Aragonés is said to be the fastest cartoonist in the world today.  He is certainly the most honored, having won every major award in the field, including the National Cartoonists Society's Reuben Award, and the Will Eisner Hall of Fame Award.
He was born in 1937 inCastellon, Spain but his family soon relocated to Mexico during the Spanish Civil War.  In Mexico, Sergio received his education, eventually studying Architecture at the University of Mexico, and also learning pantomime under the direction of Alexandro Jodorowsky.  But his heart was always in cartooning, a craft he discovered in the third grade, to the delight of his classmates and the annoyance of his instructors.  He contributed to school newspapers and anywhere else he could get his sketches printed and, at age 17, began selling professionally to a wide array of Mexican publications.  He maintained a weekly spot for over ten years in Mañana Magazine.
In 1962, he decided to try his luck in America, and arrived in New York with only twenty dollars and a folder bulging with his cartoon work.  At first, work was slow in coming and what he did sell didn't pay very well, forcing him to work as a singer/poet in Greenwich Village restaurants and to pick up other odd jobs.  Things changed when he mustered the courage to approach the top market for silly pictures, Mad Magazine.  Embarrassed by his halting English, he went to their office and asked for Antonio Prohias, the Cuban refugee who drew their popular "Spy Vs. Spy" feature.  Sergio figured that Prohias could translate for him, but he figured wrong: Prohias, though thrilled to meet a fellow Hispanic cartoonist, spoke even less English than Sergio.  He did, however, introduce his new "brother" about, and the Mad editors liked what they saw.
Sergio's first contribution — "A Mad Look at the U.S. Space Effort" — appeared in Mad #76, cover-dated January of 1963.  For that same issue, he also contributed the cover gag (the first of many) and his first "Marginal Thinking" cartoons to be printed in the magazine's margins.  He has since appeared in every issue of Mad except for one (the post office screwed up) and has done thousands of his unique pantomime cartoons.  He also produced 16 best-selling original Mad paperback books.
In the early eighties, Sergio teamed with wordsmith Mark Evanier to bring forth the adventures of Groo the Wanderer.  Groo quickly became one of the longest-running "creator-owned" comic book properties, outlasting many of the companies that published it.  Together, Sergio and Mark have also produced other comics, including Fanboy, Boogeyman, Magnor, Blair Witch? and an acclaimed series in which together, they trash famous characters: Sergio Aragonés Massacres Marvel, Sergio Aragonés Destroys DC, and Sergio Aragonés Stomps Star Wars.  For their comic book work, they have received multiple Eisner awards.  Sergio has also "soloed" with two all-pantomime series, Actions Speak and Louder Than Words and on his new comic from Bongo, Sergio Aragonés Funnies.
Sergio has appeared as an actor-performer on television (on, among others, Laugh-In and Speak Up, America) and motion pictures (in, among others, Norman, Is That You? and To Kill A Stranger).  His artwork has appeared on hundreds of advertisements and editorial features, and his animation has been featured on numerous TV shows, including The Shirley MacLaine Special, The Cher Special, The Half-Hour Comedy Hour and Dick Clark's TV Bloopers and Practical Jokes.
He lives and works in Ojai, California.
NOVEMBER 2013, The Reader´s  Corner  ADVANCED LEVEL
If you spend anytime reviewing natural health news and research (or reading our work here on Natural Society), you already know the health benefits of chocolate are no joke. More and more we are learning that you don't need to make excuses to indulge in high quality dark chocolate. As a matter of fact, just like you might indulge in honey to quell allergies or ginger to settle your stomach, you may want to add chocolate to your kitchen "medicine" cabinet for its heart-healthy benefits.
A new study from researchers with the Department of Neuroscience, Division of Human Nutrition at the University of Tor Vergata in Rome has revealed that eating dark chocolate can reduce the markers for heart disease and even reduce belly fat in a single week.
Published in the European Review for Medical and Pharmacological Sciences, "Effects of dark chocolate in a population of Normal Weight Obese women: a pilot study" looked at the effects of a 100 gram dark chocolate bar taken for one week in women who fit the study prerequisites.
The seeming misnomer of "normal weight obese (NOW) women" refers to women who may have a weight or BMI classified as normal but who have a higher body fat percentage—30% or more in most cases. It's similar to the en-vogue label of being "skinny-fat", where you may not weigh too much, but your body fat is excessive. NOW syndrome, as GreenMedInfo explains, is related to a higher risk of cardiovascular disease and mortality and is "associated with a 2.2 fold increased risk of cardiovascular mortality in women compared with those with low body fat."
During the study, women aged 20 to 40 years old received 100 grams of dark chocolate with about 70% cocoa for 7 days. Blood lipid profiles, blood pressure, abdominal circumference, and biochemical parameters were measured throughout. The results? Good cholesterol (HDL) went up and bad cholesterol (LDL) webt down. Other cardiovascular disease markers including interleukin-1 receptor antagonistwas reduced and abdominal circumference decreased.
Showcasing just a couple dark chocolate health benefits, the researchers concluded:
"Our findings suggest that regular consumption of DC could be useful in maintaining a good atherogenic profile, due to the favorable effects on HDL cholesterol, lipoprotein ratios and inflammation markers."
For you, this doesn't mean extra chocolate syrup on your ice cream or a Snickers bar at the grocery store check-out. Instead, it means eating high quality, organic dark chocolate with a minimum of 70% cocoa could help reduce your risk of heart disease.
Read more: http://naturalsociety.com/dark-chocolate-reduce-excess-body-fat-one-week/#ixzz2gqZTWCoV